Quilt No.395MO - Meg Orr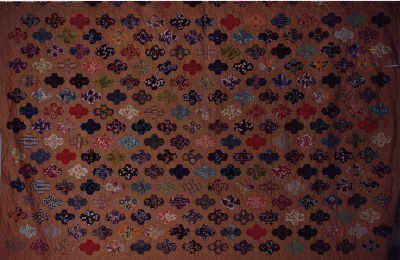 Description:
All over pattern of rows of hexagons with each unit made up of 4 hexagons each 45mm. Patterned and plain materials thought to date from the 1930s including cotton and linen dress materials, synthetics and synthetic crepe. It was an unfinished top and Meg Orr, the present owner, finished it by machine stitching some of the hexagon rosettes to the red twill background and stitching on a backing. There is no padding.
1740 x 1210mm.
History:
The quilt was made by Sarah Edith Smith prior to 1942-3 in Sydney. It then passed to the present owner, Meg Orr.
Story:
Sarah Edith Smith (1896 - 1974) lived in Randwick, Sydney when first married but then moved to Vaucluse. She was taught to quilt by her mother Mrs. Stewart. Mrs Smith was a painter until she married and also a national ice skater. She gave up quilting when the war started and became very involved with the Red Cross especially making many things for soldiers.
Related Quilts:

Double sided frame quilt. All reused materials including corduroys, wools and light weight suitings. Machine made and not quilted There is no padding as already heavy and warm.
1780 x 1530mm

Crazy patchwork quilt made from pieces of silk, velvet, silk ribbon and brocade in a variety of patterns and plains, in a range of colours. All patches are edged with embroidery, in blanket, feather, herringbone and other stitch variations. Many patches are embroidered with flowers, butterflies, leaves and initials of family members, and there is some beading. 1901 is embroidered in one corner. Quilt has a wide border of gold velvet. Patches are stitched to a base fabric. Backing is dark green sateen.
1470 x 1060mm

Crazy patchwork quilt with patches of velvet, satin and silk joined in 12 blocks. Each seam is embroidered and many patches have embroidered flowers. There is a 140mm maroon velvet border. The backing is maroon silk. There is a sachet that belongs with the quilt.
1800 x 1400mm

Patchwork quilt of rectangular wool and cotton tailors' samples, in browns, greys, navy, black and beige, in plains and patterned weaves. Padding is a woollen blanket, and the backing is a patterned cotton.
1956 x 1702mm

Hexagonal log cabin quilt. Hexagons constructed of strips with half hexagon dark and half light. These hexagons are then joined to form diagonal light and dark stripes. Machine and hand sewn. Materials are wools, printed cottons, velvets, corduroys, rayons, flannelettes, brocades, pique and taffetas. The backing is a single piece of brocatelle (rayon brocade). There is probably a thin layer of padding.
1400 x 1200mm

Cot quilt of mixed textiles and techniques. Made in sections and stitched together possibly with some padding. It features embroidered and appliqued animals (cats, donkey, elephant, squirrel, birds, kangaroo, emu) and nursery rhyme characters. Materials are cotton, silk, wool, imitation fur. There is a black velvet patch with a cross stitch parrot and embroidered date and initials 'May 1925 AE'. The backing is woven self patterned curtain material. There is a ruffle around the edge in the same material.
1400 x 930mm