Quilt No.254HS - Helen Sparkman
Description:
Patchwork quilt made of hexagon patches from satin scraps. Hexagons are in solid colours and joined to make rosettes. Hand sewn.
1800 x 1025mm
History:
This quilt was made by Clara Pitt, daughter of Matilda Pitt, probably during the 1950s. It is one of two 'special' quilts Clara made for neices. It has always been in the family and Clara was the great aunt of the present owner, Helen Sparkman. It is not used now.
Story:
"Clara May Pitt 1892-1985 (Daughter of Matilda Pitt)
Clara made many quilts mainly during the 1950s and 1960s, not out of need but because of her love of patchwork. Her quilts were mainly Hexagons and Suffolk Puffs. Clara was a single lady who had five neices and a nephew, and quite a number of great neices and nephews. As each quilt was completed it was presented to a family member. These family members now cherish her gifts, even though all have often smiled and queried her fabric selection, placement, neatness and her continual use of white thread over the years. Clara was over 80 years of age when she made her last quilt (Hexagons of course) for a private museum."
[Helen Sparkman Dec.2000]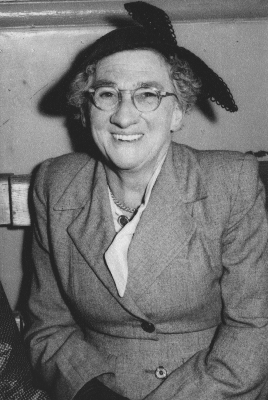 Related Quilts:

Quilt of scrap hexagons. Hand pieced over papers with some papers still in place. Materials used include seersucker, plisse, chambray and various other textured cottons used in dressmaking. The owner has restored the quilt. The backing is a soft cotton in indigo blue and the padding is flannelettte. "I machine tied the quilt in its restoration using cream cotton at the intersections so that it doesn't impinge on the interesting fabrics and the overall scrap effects." [Marie Pye]
2590 x 2170mm

Quilt with alternate red and white diamonds in cotton, with wide border of white cotton and a white cotton crochet edging. All diamond patches and edging were joined to white border decorated with feather stitch. White border edged with zig-zag white feather stitch. Centre rectangle of white has 4 red petals edged with white feather stitch and 4 red diamonds each embroidered in white clockwise: '1898', 'R', 'L', 'K'. Diamonds edged with feather stitch. There is no padding and the backing is white cotton.
2420 x 1740mm

Double sided quilt. Side 1 has a central patch of small rectangles and borders of half square triangles. Seamed construction. Side 2 is crazy patch in wools and cottons on to a backing material. There is one round segmented circle in the centre. Machine pieced and quilted.
2050 x 1610mm

Cotton frame quilt with a diamond in the centre of the frame and a border of straight pieces. The outer border is diamonds. The quilt is hand sewn and hand quilted.
1910 x 1830mm

Patchwork quilt made from hexagon patches on one side, and squares and rectangles on the reverse. Cottons are used, mostly from dressmaking, in bright and light colours. The hexagons form an indented edge on all sides; on the back the rectangles have been cut at the edge to match the hexagon shapes. Hand sewn, the edge machine sewn.
No padding.
1551 x 1373mm

Large centre rectangle of hexagons in various colours of patterned and plain cottons. It is surrounded by a wide border in a checkerboard of red and white cottons. There is a wholecloth cotton backing. The front and the back have been turned under at the edge and machined. There is no padding.
1829 x 1372mm