Quilt No.270IB - Ida Blenkiron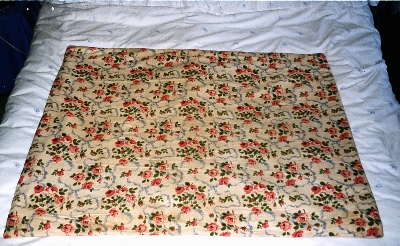 Description:
Wholecloth cot quilt of floral cotton in a pattern of pink roses, green leaves, and blue ribbons. Paddiong is old blanketing, and backing is a soft fawn twill. The cotton was the same fabric as the bedroom curtains. No quilting.
1010 x 840mm
History:
Made and owned by Ida Blenkiron (born Hocking) around 1950 when her first daughter, Heather, was born.
Related Quilts:

Wholecloth pram quilt with a top of pink cotton sateen, and the reverse is a more finely woven, ivory, fabric. All over quilting design as main feature, with stylised hearts, leaves and cross hatching. The padding is cotton batting. 870 x 660 mm.

Hand stitched, cotton, appliquéd, quilt in a flower pattern on a plain background. Colours are shades of green, apricot and browns. This quilt was known as a 'Bride's Quilt'. Padding is thought to be layers of white fabric raised almost like a wadding. The backing is cotton material. 2470 x 2020 mm.

Wholecloth quilt of natural coloured cotton material. Two thousand two hundred and twenty six names have been embroidered on the top in red stranded cotton. The backing is red and white cotton material.
2033 x 1474mm

Durham quilt made of cotton sateen, mainly gold on one side and yellow green on the other. Top, pillow fold, has been removed. The straight sides have tiny pin stripe added border. The quilting pattern is large tree of life (palm like), swags and cable on top and bottom border. Fill in is slightly elongated diamonds. 1880 x 1520mm

Reversible wholecloth quilt of floral cotton material with a sateen finish. Machine quilting in rows holds the layers together. Padding appears to be an old blanket, cream wool with grey and pink stripes.
1950 x 1850mm

Hand appliqued, embroidered and quilted, 1940s. Cotton quilt with yellow, pink and purple tulips and green leaves, has scalloped edging with green piping. Hand quilted.
2240 x 885mm