Quilt No.270IB - Ida Blenkiron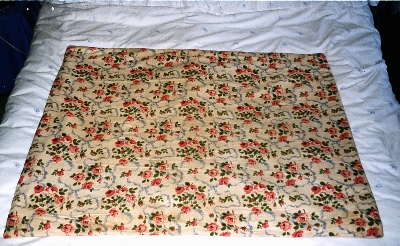 Description:
Wholecloth cot quilt of floral cotton in a pattern of pink roses, green leaves, and blue ribbons. Paddiong is old blanketing, and backing is a soft fawn twill. The cotton was the same fabric as the bedroom curtains. No quilting.
1010 x 840mm
History:
Made and owned by Ida Blenkiron (born Hocking) around 1950 when her first daughter, Heather, was born.
Related Quilts:

Wholecloth pram quilt with a top of pink cotton sateen, and the reverse is a more finely woven, ivory, fabric. All over quilting design as main feature, with stylised hearts, leaves and cross hatching. The padding is cotton batting. 870 x 660 mm.

Hand stitched, cotton, appliquéd, quilt in a flower pattern on a plain background. Colours are shades of green, apricot and browns. This quilt was known as a 'Bride's Quilt'. Padding is thought to be layers of white fabric raised almost like a wadding. The backing is cotton material. 2470 x 2020 mm.

Wholecloth quilt with white cotton centre, sky blue cotton border and dark blue binding. There are 9 repeat designs of cross stitched flowers and leaves in the centre section. Around the blue border there are 18 cross stitched flowers. Blue on blue and white on white cotton quilting of diagonal lines and curls pattern the quilt. The backing is white cotton and there is a very light padding.
2338 x1981mm

Taylor's sample quilt made from men's suit swatches, mainly greys and blues. Edging is 6cms wide, of blue flannelette. Padding is an old grey blanket, and the backing is of printed pattern corduroy. 1680 x 920 mm.

The quilt top is of rose-pink satin and the backing is a lighter pink cotton. The quilting pattern is a large central 'wheel' motif repeated from each corner like a fan. The centre 'wheel' is surrounded by a single feathered wreath and diamond fill pattern. Hand quilted. The padding is cotton wadding from cotton grown on Lesvos island.
2000 x 1600mm

Reversible wholcloth quilt with elaborate hand quilting. One side is rose pink and the other black with quilting done in black thread. It is padded but the type of padding is unknown,
2250 x 2100mm