Quilt No.278JW - Jean Winchester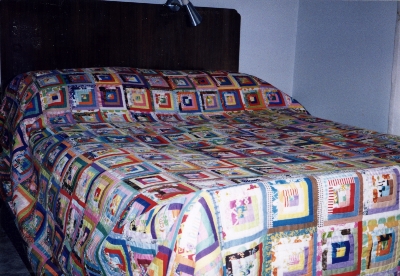 Description:
Patchwork quilt in the Log Cabin pattern, made from cotton fabrics in prints and plains in bright colours. There are 185 squares, all sewn on to check gingham. No padding. Backing is of black cotton.
2718 x 2540mm
History:
Made by Jean Winchester, around 1960, in South Australia. Owned by Jean.
Story:
"I am just an ordinary person, very little sewing skills, but enjoy needlework, I have done lots of cross stitch articles for family & friends. Patchwork cot covers for grandchildren (now great grandchildren). I am a member of a Fellowship group, also attend Weight Watchers - not really as I need to, but enjoy the company of others. Many of them are stitching people & we have displays.
I am just so glad I started Patchwork."
[Jean Winchester]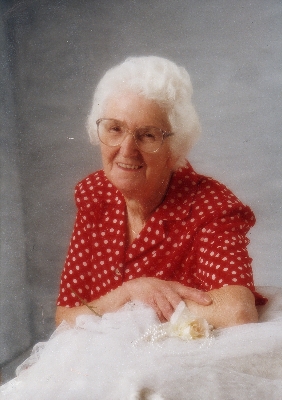 Related Quilts:

Cotton quilt made in the USA. The pattern is 'Nine Patch'. The quilt is machine pieced and hand quilted. The backing is cotton material possibly shirting. The padding is cotton.
1702 x 1702mm

Patchwork quilt of hexagon patches with a large central group of 14 rows, then groups or 'flowers' of 6 patches placed over the rest of the quilt. The colours are red, black, white and blue, in a mixture of stripes, florals and plains. No padding. Backing is a double bed sheet. Hand sewn.
2591 x 2566mm

Patchwork quilt in Log Cabin pattern, arranged in 'furrows', and made from cottons, wool and suiting fabrics. Centres of blocks are pastel or dark; dark colours are black, brown, purple blue and red. Pastel side of blocks includes a bright pink. Quilt backing is pieced, with a centre rectangle of cotton surrounded by 5 borders of plain and alternate rectangular pieced strips, in wool and suiting fabrics. Colours are black, dark blue, brown, green, grey and pastels. Inner lining is of cotton pieces, to which the Log Cabin blocks have been machined.
1620 x 1360mm

Double sided square quilt mainly in cottons. Side 1 has been made in 4 squares each consisting of different sized strips and rectangles. With side 2 there appears to have been 2 stages as if the quilt was extended perhaps to match side 1. It is also squares, rectangles and strips. Sparsley machine quilted. There is no binding but side 2 has been turned over to side 1 and stitched by machine.
1525 x 1525mm

This quilt consists of many blocks of different colours with etchings and verse from the bible machine appliqued on to a red backing material. It is a kit quilt.
2580 x 24100mm

The top has a segmented circle in the centre surrounded by a border of small rectangles. The circle is featherstitched on to the background. Materials are wools and cottons and it is hand pieced. The other side appears to have been originally men's suiting materials strip pieced. It is now covered with a children's print in light cotton joined in long rectangles. The padding is coarse heavyweight cotton.
1410 x 1080mm