Quilt No.284HJ - Hazel Jarmyn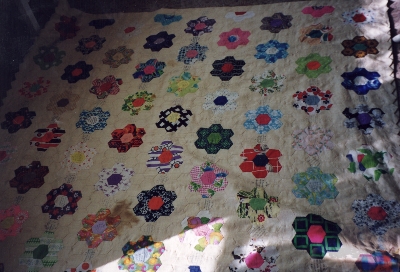 Description:
Patchwork quilt made from cotton hexagon patches in the 'grandmother's Flower Garden' pattern, in bright prints and plains, with cream 'paths' made from dress material. Padding is flannel sheeting, and backing is the same cream material as the 'paths'. The centre of the 'flower' patches are autographed with friends' names and dates, as are some 'petals' and cream patches, in black ink.
1550 x 1400mm
History:
Made by the owner, Hazel Jarmyn, in 1972 in South Australia.
Story:
"I am Australian Born in a Northern Town Named Booborowrie in my Grand Mother's House and have always been a very keen needle person. I love to sew as well as other needlework, including Tatting and Bobbin lace. I lived on the same Farm until 1979 when we moved to the city in semi retirement and taught all sorts of needlework for 25 years. Foundation member of the Australian Lace guild in Sth Aust, and still like to do all kinds of work."
[Hazel Jarmyn 10.1.98]
Related Quilts:

American quilt in 'Dresden Plate' pattern. Hand stitched, Wide variety of cotton materials used in plain and patterned materials. The backing is cream cotton. It is hand quilted. This quilt was made from an American McCalls pattern consisting of transfers for the pieces and for the quilting design.
2400 x 1700mm

Frame quilt of dress cottons, including some glazed cottons. The centre is 4 triangles pieced to make a rectangle. This is surrounded by a plain border, a border of triangles, plain border, triangles border, plain border, border of triangles pieced to form squares, square and triangle border, then rows of squares. The outer border is of glazed floral chintz with a brown background. The backing is cream linen pieced lengthways in 3 sections. There is no padding. It is quilted all over in a large clamshell pattern. The top is covered with netting.
2615 x 2280mm

Quilt in a wide variety of patterned and plain hexagons in cotton with a wide green border. There is no padding and the backing is cotton.
2500 x 2200mm

Patchwork quilt made from brightly coloured printed cotton fabrics in hexagon patches hand sewn together in rosettes, and stitched by machine onto a border of bright teal blue fabric. Fabric scraps for the patchwork were donated from friends. No padding. Backing is polished cotton curtain lining.
2312 x 1969mm

Patchwork quilt, reversible, with log cabin blocks on one side, with central red square in each block. Colours predominantly light greys, browns and pastels, and dark grey and blue. Reverse side is made of squares constructed from 2 triangles, in black, patterned pastels, pale blue and dark red. There is a black border along 2 edges on this side. It is quilted.
2058 x 1829mm

Pieced squares, each square with a cross and 4 small squares in red. Crosses are in rows alternating 2 shades of blue and 2 of brown. Cream background. Now unlined but remnant blanket like material in corners. Originally had a cotton frill. Quilt was made from scraps of material used for making children's clothes.