Quilt No.284HJ - Hazel Jarmyn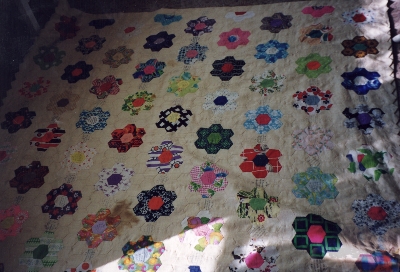 Description:
Patchwork quilt made from cotton hexagon patches in the 'grandmother's Flower Garden' pattern, in bright prints and plains, with cream 'paths' made from dress material. Padding is flannel sheeting, and backing is the same cream material as the 'paths'. The centre of the 'flower' patches are autographed with friends' names and dates, as are some 'petals' and cream patches, in black ink.
1550 x 1400mm
History:
Made by the owner, Hazel Jarmyn, in 1972 in South Australia.
Story:
"I am Australian Born in a Northern Town Named Booborowrie in my Grand Mother's House and have always been a very keen needle person. I love to sew as well as other needlework, including Tatting and Bobbin lace. I lived on the same Farm until 1979 when we moved to the city in semi retirement and taught all sorts of needlework for 25 years. Foundation member of the Australian Lace guild in Sth Aust, and still like to do all kinds of work."
[Hazel Jarmyn 10.1.98]
Related Quilts:

Cotton quilt, machine sewn and hand quilted. Pattern similar to Double Irish Chain. The background is white and the small squares mainly patterned in pinks, blues, lilacs and greens. The backing is plain white cotton and the padding, which is lumpy, could be some type of cotton.
2057 x 1220mm

Suffolk Puff quilt with puffs mainly in patterned cotton pieces saved from 60 years of household sewing. Puffs are formed into rosettes and the holes are on the top making a decorative feature. It is hand sewn.
2700 x 2400mm.

Quilt made with a rectangular centre panel of cotton fabric printed with red poppies and black flowers in a japanese style. The panel is surrounded by a wide black satin border. The backing is of black cotton, covering a previous backing of green floral cotton fabric. The padding is feathers.
1700 x 1370mm

Quilt with alternate red and white diamonds in cotton, with wide border of white cotton and a white cotton crochet edging. All diamond patches and edging were joined to white border decorated with feather stitch. White border edged with zig-zag white feather stitch. Centre rectangle of white has 4 red petals edged with white feather stitch and 4 red diamonds each embroidered in white clockwise: '1898', 'R', 'L', 'K'. Diamonds edged with feather stitch. There is no padding and the backing is white cotton.
2420 x 1740mm

Patchwork quilt made from hexagon patches on one side, and squares and rectangles on the reverse. Cottons are used, mostly from dressmaking, in bright and light colours. The hexagons form an indented edge on all sides; on the back the rectangles have been cut at the edge to match the hexagon shapes. Hand sewn, the edge machine sewn.
No padding.
1551 x 1373mm

Quilt with centre area of silk triangles framed with small squares and the rest of the top is larger squares. Wide variety of prints and plain materials. There is no padding. The backing is cotton and "E.M.B." is cross stitched in one corner. "Back is interesting as it's all the same fabric, joined but it appears to have been stitched with a running stitch (cf quilting) before it was attached to the front. It was definitely done after being joined as the stitching design follows through the seams." [Fran Williams]
2500 x 2500mm