Quilt No.834AG - Annette Gero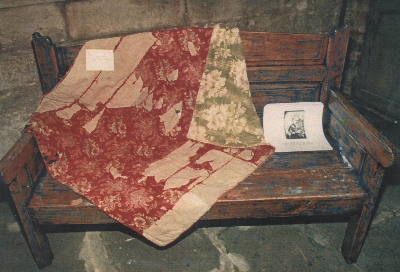 Description:
Double sided cretonne quilt, red floral one side, green floral the other. The padding is layers of blanket pieces and pieces of woollen clothes tacked flat. It is machine quilted in squares from the centre outwards.
1270 x 1060mm
History:
The quilt was made by Fanny Jenkins at Daylesford, Victoria c.1910. It is now in the collection of Annette Gero.
Story:
Fanny Jenkins was a dressmaker. She made several fine crazy quilts in the 18th century as well as this utilitarian one c.1910.
"The cretone which is the floral green fabric on the reverse and red on the front would have cost 3d a yard." [Annette Gero]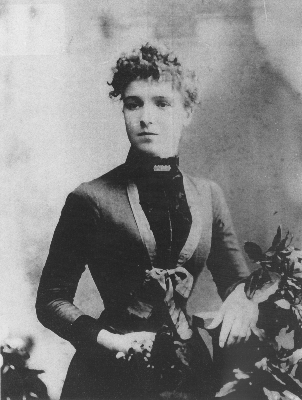 Related Quilts:

Wholecloth pram quilt with a top of pink cotton sateen, and the reverse is a more finely woven, ivory, fabric. All over quilting design as main feature, with stylised hearts, leaves and cross hatching. The padding is cotton batting. 870 x 660 mm.

Hand stitched, cotton, appliquéd, quilt in a flower pattern on a plain background. Colours are shades of green, apricot and browns. This quilt was known as a 'Bride's Quilt'. Padding is thought to be layers of white fabric raised almost like a wadding. The backing is cotton material. 2470 x 2020 mm.

Domestic Wagga made from sugar bags joined together and covered with army blankets. Machine construction. Patching evident. Sugar miller's brand visible on one bag: " M--AQUIN, 70lbs, --- SUGAR, BUNDABERG"
1753 X 1347mm

Utilitarian cot quilt. The padding is layered reused woollen materials, parts of old blankets, part overcoats. These are stitched together with string and knitting wools The top and backing are printed cotton. There is a frill all around and buttons have been used to anchor the padding layers to the outside cover.
1169 x 915mm

Reversible wholecloth cotton quilt with elaborate hand quilting. One side is cream patterned material and the other plain pale yellow. It is padded but the type of padding is unknown.
2450 x 2000mm

Wholecloth quilt. Quilting pattern is a large 'feathered thistle' with thick stem, as the main design feature. The border is a combination of straight and curved parallel lines. Burgundy sateen with damask weave. All quilting is handstitched. Padding is cotton wadding and backing is tomato red cotton. 2150 x 1820 mm.