Quilt No.834AG - Annette Gero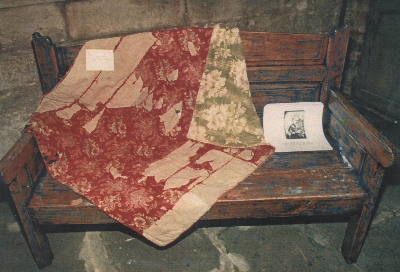 Description:
Double sided cretonne quilt, red floral one side, green floral the other. The padding is layers of blanket pieces and pieces of woollen clothes tacked flat. It is machine quilted in squares from the centre outwards.
1270 x 1060mm
History:
The quilt was made by Fanny Jenkins at Daylesford, Victoria c.1910. It is now in the collection of Annette Gero.
Story:
Fanny Jenkins was a dressmaker. She made several fine crazy quilts in the 18th century as well as this utilitarian one c.1910.
"The cretone which is the floral green fabric on the reverse and red on the front would have cost 3d a yard." [Annette Gero]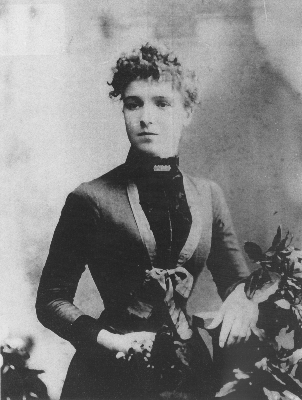 Related Quilts:

Wholecloth pram quilt with a top of pink cotton sateen, and the reverse is a more finely woven, ivory, fabric. All over quilting design as main feature, with stylised hearts, leaves and cross hatching. The padding is cotton batting. 870 x 660 mm.

Hand stitched, cotton, appliquéd, quilt in a flower pattern on a plain background. Colours are shades of green, apricot and browns. This quilt was known as a 'Bride's Quilt'. Padding is thought to be layers of white fabric raised almost like a wadding. The backing is cotton material. 2470 x 2020 mm.

Machine sewn reversible quilt. Side 1 is rectangles of men's suiting samples in mainly grey, navy and black, stripes and self patterns. Side 2 is men's suiting samples but also includes woollen rectangular pieces in plain blue and deep pink. There is a hand sewn binding of fine orange-brown wool. The padding is hessian and cotton.
1460 x 1100mm

Double sided quilt. One side is frame with borders of wool rectangles mainly offcuts of men's suiting from tailors' shops. The other side is mainly flannelette in stripes and patterns similar to pyjama material. The padding is pieced patches of worn jumpers that were too matted to be unpicked. Machine construction.
1700 x 1490mm
Cot quilt made in rows of crochet in treble clusters. Backed with blue cotton fabric. Backing replaced with another backing of blue fabric in 1970. Colours of rows are green,yellow, blue, pink and red.

Machine stitched quilt made from tailors' samples cut into squares. The colours are mainly greys, browns and fawns. There is no padding and the backing is a grey herringbone heavy woollen material with a white fleck. This is folded back to the front to make a 75mm border and finished with a dark grey braid where it meets the patchwork top. 1525 x 1225mm