Quilt No.978NGA - National Gallery of Australia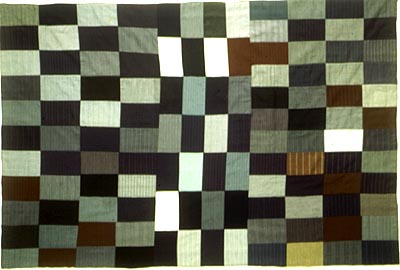 Owner:
National Gallery of Australia
Description:
" Reversible patchwork quilt of woollen suiting in grey, blue, navy, maroon and brown. The fabrics appear to be new tailor's sample pieces (the sizing is still present on the fabric, signifying it has never been washed). The patches are rectangular and vary in size. Both sides have different designs. The front of the quilt has 4 rows of 12 vertical rectangles then below this are 4 rows of 7 horizontal rectangles followed below by 4 rows of 11 vertical rectangles. The reverse of the quilt has a section at the top and bottom composed of 5 rows of 9 horizontal rectangles. The central area...
History:
"Caroline Mary West (Australia 1872-1947) made this quilt near Trundle, New South Wales. Florence Rose Burbridge. The artist's granddaughter, donated this work to the National Gallery of Australia in 1988." [NGA]
Related Quilts:

Machine stitched quilt made from tailors' samples cut into squares. The colours are mainly greys, browns and fawns. There is no padding and the backing is a grey herringbone heavy woollen material with a white fleck. This is folded back to the front to make a 75mm border and finished with a dark grey braid where it meets the patchwork top. 1525 x 1225mm
Dresden plate quilt with pointed pieces set around a white centre. Fabrics are checks, floral patterns and plains of the 1930s. The twenty blocks are sashed with plain mauve fabric which does not meet evenly in some places. The padding is two layers of cotton bedspreads. The backing is open weave rough quality cotton.
1860 x 1550mm.

Irregularly patched from a variety of cotton dress prints, checks, plains and mattress ticking. 1920s and 30s fabrics. Both top and back are similar. Hessian padding. Originally two single quilts, now stitched together.
1850 x 1720mm

Patchwork quilt has a centre of a square within a square, with rows of scraps added around it. The scraps are mainly cotton shirting fabrics and are cut in different sizes and shapes. The two long sides have a narrow red edging folded from the back. The other two sides have been 'bagged'. Filling is an unusual weave thought to be wool. Backing is a pink, red and beige floral cotton.
2080 x 1650mm

Hand pieced hexagon quilt in pattern known as 'Grandmother's Flower Garden". 12 hexagons, in patterned cottons, form the outer border of each flower with an inner border of 6 matching plain coloured hexagons and all flowers have a yellow hexagon centre. There is no padding, a cotton backing and it is hand quilted.
2400 x 1780mm.

Large squares, alternate brown check and blue check, of men's dressing gown material. "Everyone's father had one in 40s and 50s". [Pam Clifford]. No padding. Backing is smaller random shapes of men's grey suiting material. Machine construction. There is no quilting.
2236 x 1550mm