Quilt No.978NGA - National Gallery of Australia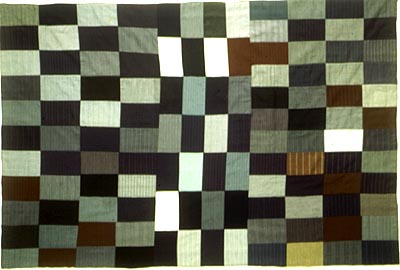 Owner:
National Gallery of Australia
Description:
" Reversible patchwork quilt of woollen suiting in grey, blue, navy, maroon and brown. The fabrics appear to be new tailor's sample pieces (the sizing is still present on the fabric, signifying it has never been washed). The patches are rectangular and vary in size. Both sides have different designs. The front of the quilt has 4 rows of 12 vertical rectangles then below this are 4 rows of 7 horizontal rectangles followed below by 4 rows of 11 vertical rectangles. The reverse of the quilt has a section at the top and bottom composed of 5 rows of 9 horizontal rectangles. The central area...
History:
"Caroline Mary West (Australia 1872-1947) made this quilt near Trundle, New South Wales. Florence Rose Burbridge. The artist's granddaughter, donated this work to the National Gallery of Australia in 1988." [NGA]
Related Quilts:

The top is strips of mainly wools in blue, maroon and purple. The backing is imitation fur in brown and grey. They is no quilting. The padding appears to be a double sided pieced quilt from men's suitings or tailors' samples.
1500 x 1130mm

Hand pieced frame quilt with centre frame of hexagons and radiating borders of cotton and chintz. There is a heart at each of the 4 corners on the second border. It is hand quilted. There is no padding.
1900 x 1900mm

Hand sewn hexagons over paper templates in a pattern known as 'Grandmother's Flower Garden'. Materials are printed dress cottons, patterned and plain, mainly in pinks, blues and browns. The border and backing is grey linen and is machine stitched on. There is no padding. 2060 x 1579 mm.

Patchwork quilt made from cotton hexagon patches in the 'grandmother's Flower Garden' pattern, in bright prints and plains, with cream 'paths' made from dress material. Padding is flannel sheeting, and backing is the same cream material as the 'paths'. The centre of the 'flower' patches are autographed with friends' names and dates, as are some 'petals' and cream patches, in black ink.
1550 x 1400mm

Cotton quilt entirely of hesagons. Some are formed into rostttes or flowers and have a print border of 12 hexagons, an inner circle of 6 hexagons in a plain colour and a yellow hexagon centre. The padding is cotton wool and the backing plain off white cotton.
2210 x 1430mm

Wholecloth quilt originally covered with cretonne and recovered with orange satin. Machine quilted. Padding of wool.
1270 x 1160mm