Quilt No.365JM - Jeanette McGeoch
Description:
Crazy patchwork quilt made from pieces of silk, velvet, silk ribbon and brocade in a variety of patterns and plains, in a range of colours. All patches are edged with embroidery, in blanket, feather, herringbone and other stitch variations. Many patches are embroidered with flowers, butterflies, leaves and initials of family members, and there is some beading. 1901 is embroidered in one corner. Quilt has a wide border of gold velvet. Patches are stitched to a base fabric. Backing is dark green sateen.
1470 x 1060mm
History:
Made c.1901 in Wahgunyah Vic by Jeanette Cullen (born Fraser), 1838-1912, then owned by her daughter Christina Marion McLaurin 1871-1953. Now owned by Christina's daughter Jeanette Fraser McGeoch b.1901.
Story:
"Maker of the quilt was Jeanette Fraser born Inverness Scotland 1838. Married William Cullen 1868, died 1912. 7 children. Initials for all are on the quilt. William Cullen's parents migrated from Northern Ireland. The quilt was made at 'Gorthleck' Wagunyah Vic, the family property. Jeanette was an expert needlewoman: sewing, crochet, tatting, knitting (cotton bedspread). She also did crayon drawings. Jeanette was the grandmother of the present owner Jeanette McGeoch.
The quilt passed to Jeanette Cullen's daughter, Christina Marion, born 1871. Lived at Lilliput via Rutherglen. She was the second eldest. Married Robert McLaurin in 1900. Died 1943 aged 82 years. 5 children.
The quilt passed to Christina's daughter, Jeanette, born 1901 at Lilliput via Rutherglen Vic. Married 1926 to Walter McGeoch. Jeanette is the present owner of the quilt.
Jeanette recalled the quilt was laid across the foot of her Grandmother's bed, a four poster mahogany. Jeanette described her Mother's and Father's bedroom at 'Curnalla', Lilliput via Rutherglen: the bed was a full tester, cream enamel with brass fittings. There was a white knitted bedspread (counterpane) with crocheted edging, about 8 inches wide with vandyke points. The curtains had knitted strips and crocheted strips. There was a footstool at the end of the bed. The quilt was always laid across the end of the bed. This description refers to the period from 1900 to when Robert died."
[Additional notes from conversation with Mrs McGeoch 1998.]
Initials on the quilt are:
JC Jeanette Cullen
FCC Fred Cullen, son
FF Fred Fraser, brother
JC Jack Cullen, son
AFC Angus Fraser Cullen, son
WRC William Robert Cullen, son
CMC Christina Marion Cullen
ME Mary Elizabeth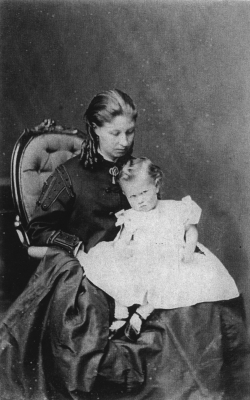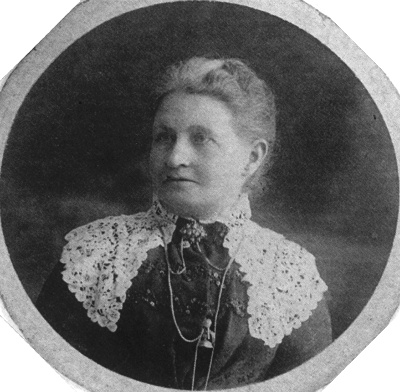 Related Quilts:

Frame quilt, hand and machine sewn, centre square of squares (7 rows by 7 rows) of 2 triangles, with red border. Alternate rows of triangles, rectangles, 'flying geese' border, squares, squares set on point with triangles, wide red border. Hand quilted throughout in chevrons, single cables and single scallops. The padding is a hand woven cream wool blanket and the backing is cream cotton twill.
2330 x 2030mm

Frame quilt of dress cottons, including some glazed cottons. The centre is 4 triangles pieced to make a rectangle. This is surrounded by a plain border, a border of triangles, plain border, triangles border, plain border, border of triangles pieced to form squares, square and triangle border, then rows of squares. The outer border is of glazed floral chintz with a brown background. The backing is cream linen pieced lengthways in 3 sections. There is no padding. It is quilted all over in a large clamshell pattern. The top is covered with netting.
2615 x 2280mm
Patchwork quilt made from alternate squares of light green and medium green cotton headcloth. The light green squares are hand embroidered with Australian native birds, the medium green squares are decorated with pulled thread designs. No padding. Backing and binding of medium green headcloth. Made from patterns published in The Adelaide Chronicle.
2650 x 1573mm

Patchwork quilt, reversible, with log cabin blocks on one side, with central red square in each block. Colours predominantly light greys, browns and pastels, and dark grey and blue. Reverse side is made of squares constructed from 2 triangles, in black, patterned pastels, pale blue and dark red. There is a black border along 2 edges on this side. It is quilted.
2058 x 1829mm

Almost square top made of military colour patches of woollen material machine sewn on to blanket pieces, then each piece hand stitched together. The top is a frame style with central group of patches in a star motif with colour patches set in borders around the centre. There is no padding and the backing is the blanket pieces.
2143 x 2090mm

Cotton quilt . Blue squares with evry alternate square cream with an appliqued butterfly. Blue border. Completely hand quilted. Light weight padding and cotton backing .
2743 x 1829mm