Quilt No.375MR - Max Robertson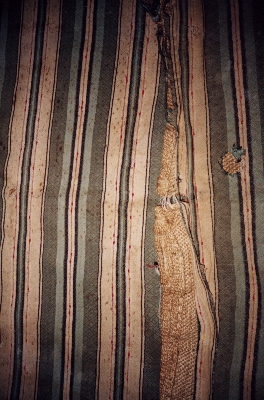 Description:
This traditional Wagga rug is made from 4 jute wheat bags joined lengthwise (upopened) by sewing with a bag needle and twine. It did not have a cover. In the 1950s it was covered with striped cottage twill on both sides. Originally there was no padding and now the bags are the padding.
1950 x 1130mm
History:
The Wagga Rug was made from 4 wheat bags by Norman Robertson and used on the beds in the family home at Coolamon. Max's daughter-in-law Mary purchased a new sewing machine in the mid 50s and decided to cover the Wagga Rug. She purchased striped cottage twill at Kelly and Cunningham in Wagga Wagga and put a wholecloth cover on it.
This Wagga Rug remains in the family, is valued and was used until about 1995.
Story:
Norman Robertson worked on properties in the Coolamon district of NSW and also at Pike's flour mill. One of his jobs was sewing up bags of wheat on farms. He made the Wagga Rug to use on beds in the sleepout of the Coolamon house where the family slept summer and winter.
Max, Norman's son, born 1933 worked unloading wheat trucks on a Saturday morning when he was a schoolboy. Max later used the Wagga Rug on his many motor bike trips around Victoria and usually carried it in another wheat bag. In 1960 when Max and Mary were married they took the Wagga Rug (now covered with the twill) in their panel van.
The family still has the old style bag needle that was used in making the Wagga rugs.
[Refer to the excellent photographs in 'Coolamon Through the Eye of the Camera' Max Robertson especially pages 90 and 91, wheat at the railway yards.]
Related Quilts:

Wholecloth pram quilt with a top of pink cotton sateen, and the reverse is a more finely woven, ivory, fabric. All over quilting design as main feature, with stylised hearts, leaves and cross hatching. The padding is cotton batting. 870 x 660 mm.

Hand stitched, cotton, appliquéd, quilt in a flower pattern on a plain background. Colours are shades of green, apricot and browns. This quilt was known as a 'Bride's Quilt'. Padding is thought to be layers of white fabric raised almost like a wadding. The backing is cotton material. 2470 x 2020 mm.

Wholecloth quilt of golden brown cotton sateen, the backing of a lighter yellow cotton sateen. Hand quilted with an allover repeatingr pattern of a cross within a square. The border is quilted with 4 parallel rows of stitching at the sides, and 5 at the top and bottom. Padding is cotton wadding. 1920 x 1440 mm.
1920 x 1440mm

" This coverlet is composed of two pieces of dark blue cheese cloth joined with a row of running stitches down the centre of the coverlet (the seam faces the front face of the coverlet but is hidden beneath a row of appliqué).
The coverlet is decorated with rows of pieced work surrounding appliquéd and embroidered scenes. A panel down the LHS of the quilt and a smaller panel lower RHS depict animals and floral images. In the centre RHS an elderly couple sit beneath a tree. In the upper left a bride and groom accompanied by three flower girls are showered with petals from a wicker basket carried by a very large angel. Glass beads, sequins and a button have been used to highlight the appliqué and embroidery.
As with all of Mary Jane Hannaford's quilts, the work is stitched by hand and quite crudely, but the naivety of the images is overwhelming with their charm." [NGA] The quilt is not padded or lined. 1950 x 1690mm

The quilt consists of 2 layers of random pieces of woollen coating and suiting materials machined together, very dark colours on one side and a mixture of dark and lighter on the other. The 2 layers are quilted together with a row of machining and has a folded and machine stitched edge. There is no padding.
1270 x 950mm

Hand stitched appliqued quilt or banner. Different hand stitching indicates applique was probably done by several people. There is no padding. The backing is calico.
2230 x 2140mm