Quilt No.389AC - Ann Cuthbert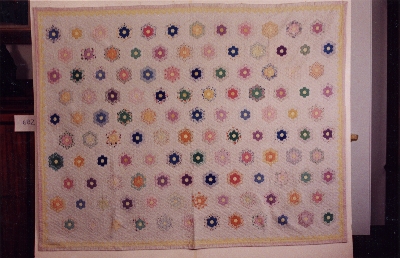 Description:
Patchwork quilt of hexagons in pattern known as 'Grandmother's flower garden'. All cotton. Rosettes are set in a white 'path' with the centre and first ring in solid colours and the second ring prints. There is a yellow border and an outer border in pink. It is hand pieced and hand quilted. The padding is cotton and the backing is white cotton with 2 border edges in light and dark blue. These borders were originally part of the top. There is an inscription "Dear daughter from Mother".
2390 x 1880mm
History:
The quilt was made in California, USA, by the owner's great, great, great grandmother whose name was Wight and who had come from the Isle of Wight. It is thought to have been made in 1892 and it passed by maternal descent through the next 5 generations. The surnames of the next 3 generations of women are: Stid (great, great GM), Northam (great GM), Whipple (GM). The quilt then passed to Ann Cuthbert's mother, Elizabeth Whipple (later MacGregor) and then to Ann.
The quilt is not used.
Story:
There is a history of handwork in the family. The quilt has rarely been used as it was too fragile but Ann Cuthbert recalls it being on her bed as a teenager. Ann came to Australia when she was 10 years old.
It is thought that Mrs. Wight (born 1811) made the quilt for her daughter's birthday.
[Ann Cuthbert requested that the following information be included: The quilt is now with her daughter-in-law (son deceased) in Finland and the address is: Marja Cuthbert, Selininkatn 1 A 13, 33240, Tampere, Finland.]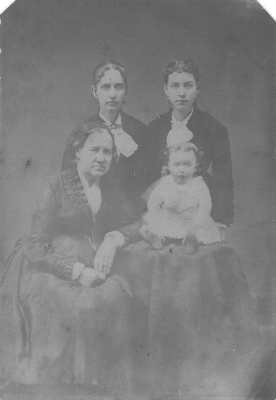 Related Quilts:

Hand stitched silk quilt in mosaic patchwork based on triangles. Pieces include dress materials and some embroidered linings fom men's waist coats. Paper templates. The backing is cotton.
2200 x 2000mm

Patchwork quilt made up of 100mm multi coloured squares in a variety of materials including cottons, synthetics, lurex, plain and printed. Each square has dacron padding and is then joined in strips and the strips joined. All hand sewn. The backing is blue synthetic whole cloth 60mm of which is returned to the front to form a border.
1500 x 1200mm

The quilt consists of 2 layers of random pieces of woollen coating and suiting materials machined together, very dark colours on one side and a mixture of dark and lighter on the other. The 2 layers are quilted together with a row of machining and has a folded and machine stitched edge. There is no padding.
1270 x 950mm

Patchwork quilt made of 1 inch hand paper pieced hexagonal patches (English technique), with plain and floral patterned blue fabrics in clusters at regular intervals throughout the taupe coloured patches. Centre of quilt has a cluster or 'flower' of 4 rings of patches, the centre group embroidered in blue satin stitch: 'MW 1938'. Border consists of 3 rows of medium, light and dark blue hexagons. No padding. Backing is of blue cotton sateen.
2185 x 1372mm

Friendship Quilt'. All cotton with thick cotton padding. Each of the large panels of patchwork is different and many are signed by the makers who belonged to the Rebecca Lodge in Linwood California. Dates on the squares with signatures are 1933. Wide variety of colours and patterned and plain fabrics. The quilt is now in 2 pieces.
1981 x 1727mm

"The Rajah "quilt" is a patchwork and appliquéd bed cover or coverlet. It is in pieced medallion or framed style: a popular design style for quilts in the British Isles in the mid 1800's. There is a central field of white cotton decorated with appliquéd (in broderie perse) chintz birds and floral motifs. This central field is framed by 12 bands or strips of patchwork printed cotton. The quilt is finished at the outer edge by white cotton decorated with appliquéd daisies on three sides and inscription in cross stitch surrounded by floral chintz attached with broderie perse on the fourth side. All fabrics used in the Rajah quilt are cotton with the exception of small amounts of linen and silk threads. The quilt shows evidence of being produced by many hands." [NGA] The quilt is not padded or lined. 3372 x 3250mm