Quilt No.405MC - Margery Creek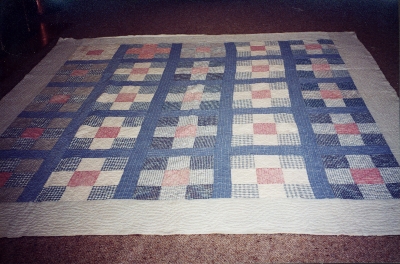 Description:
Cotton quilt made in the USA. The pattern is 'Nine Patch'. The quilt is machine pieced and hand quilted. The backing is cotton material possibly shirting. The padding is cotton.
1702 x 1702mm
History:
The maker is unknown. Margery Arnold Creek inherited the quilt from her Mother Margery Eleanor Arnold (1912-1996) who purchased it from a quilt dealer in New Jersey in 1991. The quilt is not used.
Story:
Nothing is known of the early history of the quilt. Margery E. Arnold made quilts and collected them from the 1970s. She chose quilts to purchase by their fine workmanship and quilting designs.
Related Quilts:

This utility quilt is mainly constructed from long strips of cotton seed sack material. It is machine pieced and quilted by hand in a diagonal pattern. There is a red border. The backing is cotton flannelette and the padding is cotton.
1601 x 1525mm

150mm squares of old material scraps, mostly cotton, including some curtain material. There is no padding and the backing is brown lawn.
2540 x 2370mm

All cotton hexagon quilt using a wide variety of colours and patterns. The hexagons were hand stitched by Sylvia Schleibs in the same style she and her daughter, Norma Gilchrist, had previously made 3 hexagon quilts. There is a calico border and backing.
2000 x 1450mm

Frame quilt with the centre frame featuring stars. These are English pieced and then appliqued on to the background using straight stitch on the machine. Borders are squares, rectangles and truangles. Mainly cottons. There is no padding. The backing is an old white bedspread similar to a Marcella.
1900 x 1930mm

Quilt in frame style patchwork with applique and broderie Perse applique in printed cottons and linens with silk embroidery. The centre frame has an octagonal shape of floral printed material appliqued on to cream linen surrounded by pieced and appliqued triangles and sashing of printed cotton. Above the frame is embroidered in dull gold silk in cross stitch 'Mary Moxey 1818 Emma Tremlett Born Decr 16th 1837'. Outer borders are pieced and appliqued diamonds and hexagons separated by printed sashing. The quilt is backed with cream linen.
2405 x 2373mm

Suffolk Puff or puff-ball quilt is made from scraps of dresses and pyjamas, mainly cottons, but also taffeta lining fabric, net, lurex, flocked organdie. The quilt is in bright clear colours, the fabric mostly in small prints, ginghams, different size spots, a few large prints, Chinese brocade, nylon. Puffs are 5cm across, and set 31 puffs across by 45 down. Puffs are squared off when whipstitched together, so corner holes are smaller than usual.
2180 x 1500mm