Quilt No.859AG - Annette Gero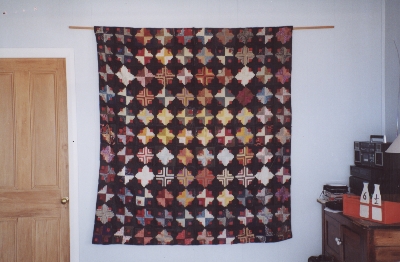 Description:
Hand pieced log cabin quilt in silks, satins and velvets. There is a silk backing machined on, possiby a later addition. The quilt has over 5000 pieced.
1820 x 1680mm
History:
The quilt is thought to have been made in Victoria c.1890. It is now in the collection of Annette Gero.
Story:
"The log cabin and its variations is one of the more common patterns made by Australian quilt makers. The pattern may have come from the USA during the Gold Rush, but it is more likely that it was introduced by Irish or Scottish settlers, as it was extremely common in Britain in the 19th century.
This quilt, in several of the pieces of yellow fabric, contains a British coat of arms - perhaps the selvage of the fabric (most of the fabric imported into Australia at this time came from Britain) or ribbons for cigar boxes (cigar ribbons)�.." [Annette Gero]
Related Quilts:

Utilitarian quilt. The top and backing are machine pieced scraps of curtain material and clothing pieces. The centre is an old blanket and possibly clothing pieces.
2033 x 1525mm

Double sided quilt. One side is frame with borders of wool rectangles mainly offcuts of men's suiting from tailors' shops. The other side is mainly flannelette in stripes and patterns similar to pyjama material. The padding is pieced patches of worn jumpers that were too matted to be unpicked. Machine construction.
1700 x 1490mm

Hand sewn patchwork quilt with a pattern of blue stars. Each star consists of hexagons in the centre with part diamonds forming the star shape. The quilt is made from scraps. It is not padded and the backing is cotton and has a hexagon star border. 2660 x 2470 mm

Patchwork quilt has three centre squares, one in blue/white/brown in a cross pattern, one in framed square, one with diagonal strips in a pink frame. The rest of the quilt is made from strips of rectangles in different sizes sewn in rows. There is a narrow pieced frame, then an outer border of pieced rectangles. Mostly pastel colours. No padding. Backing is calico. There is a little embroidery.
2160 x 1601mm

Cotton quilt made in the USA. Pattern is the 'Evening Star' and each star has a frame. It is hand pieced and hand quilted and uses shirting material. It has been modified along two sides where the block extension is visible, having been turned to make a hem. The backing is calico and the padding is cotton.
1829 x 1575mm

Double sided patchwork quilt/rug constructed from squares machined together in strips and then the strips joined. It is made in one piece and then doubled over. The materials are mainly wool, worsted, part cream machine made jumper, pink and blue mohair, blue and white spotted flannelette and cream blanket and all are scraps or from worn clothing.
1690 x 1370mm