Quilt No.416MC - Margery Creek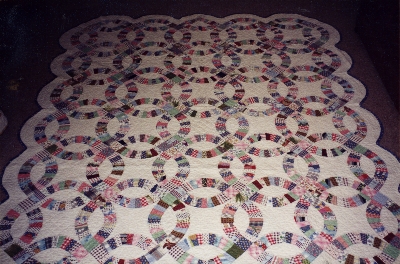 Description:
Double Wedding Ring' cotton pieced quilt. Machine constructed and hand quilted. Padding is Mountain Mist cotton. The backing is unbleached calico.
2160 x 1855mm
History:
The quilt was made by Olive Goldie Dingley Creek (born 1924) in 1964 in Maryland USA. It was given to Gene (Eugene) and Margery Creek for a wedding gift and the quilt was brought to Australia in 1976 when the Creeks decided to live in Australia on a semi permanent basis. It is still used.
"Mountain Mist cotton batting was sold in a white paper bag, on the paper was printed a variety of quilt patterns. This pattern, however, was provided by my neighbour Viola Stottermeyer of western Maryland USA."[Olive Goldie Dingley Creek 27.9.97]
Story:
"This quilt was made as a technical challenge. The Home Makers' group/club were constructing Double Wedding Ring by hand. I decided that if you could put in a sleeve ie a curve you could construct Double Wedding Ring pieces by machine. And I did! This was the start of encouraging my mother to move away from utility quilts and concentrate on making pretty quilts.
My mother Estella Goldie Hendershot Dingley (1898-1976) made many quilts and quilt tops in her lifetime. Estella made 100 or so quilts and tops from this time on." [Olive Goldie Dingley Creek 27.9.97]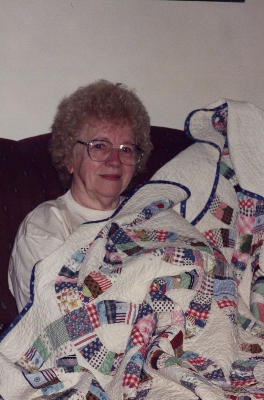 Related Quilts:

Hand pieced crazy quilt in a variety of plain coloured velvets. All seams are over embroidered in a variety of stitches. There is no padding and the backing is heavy black cotton. 1900 x 1630mm.

Irregularly patched from a variety of cotton dress prints, checks, plains and mattress ticking. 1920s and 30s fabrics. Both top and back are similar. Hessian padding. Originally two single quilts, now stitched together.
1850 x 1720mm

Cotton quilt, machine sewn and hand quilted. Pattern similar to Double Irish Chain. The background is white and the small squares mainly patterned in pinks, blues, lilacs and greens. The backing is plain white cotton and the padding, which is lumpy, could be some type of cotton.
2057 x 1220mm

Quilt made with a rectangular centre panel of cotton fabric printed with red poppies and black flowers in a japanese style. The panel is surrounded by a wide black satin border. The backing is of black cotton, covering a previous backing of green floral cotton fabric. The padding is feathers.
1700 x 1370mm

Patchwork quilt of hexagon patches in a variety of colours and fabrics, including cottons, wool, lace, nylon. Edging is of yellow cotton. It is backed but there is no filling or padding.
2470 x 2100mm

Double sided utility quilt made from machine pieced squares of tailors' samples and men's and boy's suitings. The padding is 5 or 6 layers of pieced used clothing including darned, threadbare socks, part jumpers, blanket pieces etc.
2090 x 1340mm