Quilt No.433AS - Amanda Smith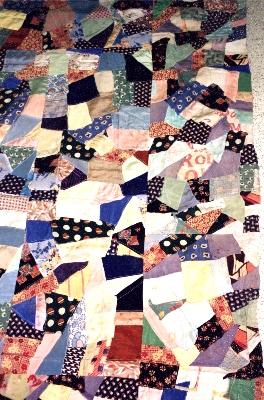 Description:
Quilt pieced from scraps machine sewn on to calico pieces including printed bags. The backing is wholecloth, cretonne.
1423 x 1347mm
History:
This unfinished quilt was made by Mrs. Buckley, the great gandmother of the present owner, in South Australia early this century. It was then owned by her daughter Gwendalyn Zelma Blanche Hynes (grandmother of Amanda Smith) until 1989 when Amanda claimed it just 10 days before Gwendalyn's death. It is not used now.
Story:
"My memories of this quilt were when I was sick at my grandmother's house (she lived around the corner from my house) it would be on my bed, an old fashioned old bed with curved top and base with a feather mattress."
[Amanda Smith 15.3.98]
Related Quilts:

Double sided quilt. One side is frame with borders of wool rectangles mainly offcuts of men's suiting from tailors' shops. The other side is mainly flannelette in stripes and patterns similar to pyjama material. The padding is pieced patches of worn jumpers that were too matted to be unpicked. Machine construction.
1700 x 1490mm

Cotton patchwork quilt in double wedding ring pattern in pastel prints. Quilted in a design of geometric flowers. Padding is probably cotton wadding, backing is cream calico. 2270 x 1970 mm.

Cotton scrap quilt in a pattern known as 'Grandmothers Fan'. It is hand quilted. The padding is hand carded cotton and the backing is muslin.
2235 x 1880mm

Double sided silk quilt. One side is paisley designs and the reverse plain silk . Machine pieced. There is a thin padding possibly sheeting.
2694 x 2287mm

The quilt is called 'Loved'. The pattern is log cabin and it is made from dress materials and pyjama flannelette. The original filling was a heavy woollen blanket (now flannelette) and the backing is green headcloth - all government issue. With its restoration, the backing was supplemented with a green floral, and the quilt is now tied. The quilt is machine pieced, some restoration work is done by hand.
2260 x 1920mm

Snow Ball' cotton quilt made in the USA. Feed bag materials and dress materials. Hand pieced and hand quilted. Calico border and backing.
2058 x 2007mm