Quilt No.447PS - Pat Stevenson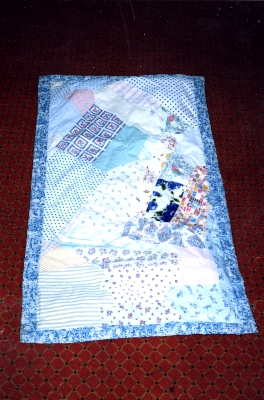 Description:
Double sided quilt constructed from large irregular shaped pieces of dress materials from the fifties. They are machine sewn onto old sheeting and there is a turquoise and white print binding 45mm wide. The padding is cotton wadding.
1245 x 712mm
History:
The quilt was made by the present owner, in Melbourne, in 1959 for her first nephew born in July 1959. It was owned by his mother Gwen Nixon and is now owned by the maker Pat Stevenson. It is used occasionally.
Story:
" I had not thought of these quilts as quilts until showing them to fellow quilters for the genuine fifties period fabrics and had not connected them to my present occupation as a patchworker and quilter.
I started with the American style patchwork in 1980 and onwards, teaching it to High School students until my retirement in 1993 when I joined a group of Essenden Quilters and now spend a large amount of time creating new quilts." [Pat Stevenson 14.5.98] The quilt was made in the same style as the single bed quilt Pat owns made by Elsa Beaves.
Related Quilts:

Repeat block in Ohio star pattern. Wide border of triangles, pieced blocks and stripes. Stars are in greens, pinks, mauves (all now very faded) and white. Wreath quilting in squares with smaller wreath quilting in triangles. There is padding and the backing is a poly/cotton sheet. 2500 x 2450mm

Patchwork quilt with diagonal arrangement. All cotton including cotton padding. Hand sewn and quilted.
2109 x 1702mm

Double sided quilt. One side is different shapes including rectangles in various sizes in wools and men's suiting material. It is hand pieced. The pther side is mainly cottons in florals of different patterns joined in strips of varying width and machine and hand pieced. There is a 25mm binding. The padding is an old blanket.

Patchwork quilt made from hexagon patches in satin and nylon, the nylon overlaid on satin. Fabrics are plain, in a mixture of dark and light colours. No padding. Backing is of pink satin with pink satin ribbon covering the joining seams. Hand sewn with some machine stitching. Feather stitching along the edge. There is no padding.
2211 x 1752mm

This domestic Wagga is two layers of woollen army blankets with the top layer in rectangles joined in rows. The backing is hessian bags that originally contained meat meal.
11650 x 1130mm

Patchwork quilt of hexagon patches with a large central group of 14 rows, then groups or 'flowers' of 6 patches placed over the rest of the quilt. The colours are red, black, white and blue, in a mixture of stripes, florals and plains. No padding. Backing is a double bed sheet. Hand sewn.
2591 x 2566mm