Quilt No.76JPM - Jindera Pioneer Museum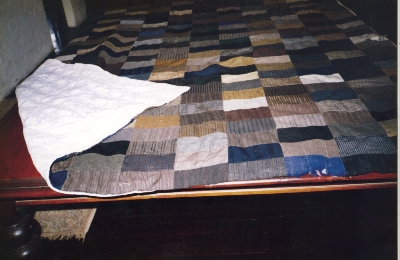 Description:
Quilt made of 26 x 13 rectangles of woollen men's suiting samples. Each rectangle is about 70 x 130 mm. Wide variety of patterns, mainly stripes, and colous. The padding is part of a worn cream blanket and joined pieces of woollen clothing. The backing is a well worn piece of brushed cotton. Machine made.
11900 x 1870 mm
History:
This quilt was purchased at the clearing sale at Selby Grange, Brocklesby NSW in the 1980s.
Story:
Attributed to Catherine Anderson who lived at Selby Grange with her husband Robert in the 1920s.
Related Quilts:

Patchwork quilt/cloth with strong overall design of very small squares. The colours are navy, red, cream, green (khaki) and fawn. There is a wide fringe on all sides. There is no padding. The backing is cotton sateen.
1240 x 126mm

Cotton quilt, checks, plains and patterns. Machine construction. Rectangles stitched together in strips and then strips joined. The backing is a cotton print. There is no padding and no quilting.
2420 x 1220

Frame quilt with the centre frame featuring stars. These are English pieced and then appliqued on to the background using straight stitch on the machine. Borders are squares, rectangles and truangles. Mainly cottons. There is no padding. The backing is an old white bedspread similar to a Marcella.
1900 x 1930mm

" Double bed size coverlet made of white cotton 'blue bags' fabric (white cotton squares used to hold a measured amount of blueing agent used to keep linens white during the laundering process). Patches are sewn together in the 'Suffold Puff' style - a circle of fabric is gathered up to make a puff. Patches are joined by a few stitches on four sides. Coverlet is edged with a deep crochet fringe, to a depth of approx. 18cm on all four sides���On lining is written in black ink: 'C.Bleagard Baby Ken'. " [NT NSW]
2570 x 2380mm

Machine pieced cot quilt made from squares of material including tweed, wool, blanket and pyjama material. The squares are joined in rows with colours randomly placed. There is a pink satin edging. The backing is part of a pale pink blanket.
1150 x 900mm

Wholecloth quilt made from orange cotton cretonne for back and front. Padding is made from old blankets stitched together. The quilt weighs 16 lb.
1423 x 1118mm