Quilt No.76JPM - Jindera Pioneer Museum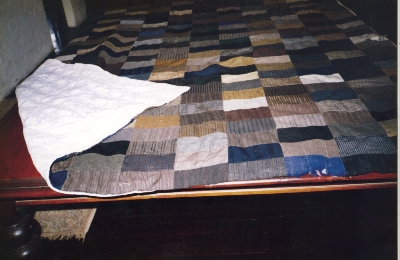 Description:
Quilt made of 26 x 13 rectangles of woollen men's suiting samples. Each rectangle is about 70 x 130 mm. Wide variety of patterns, mainly stripes, and colous. The padding is part of a worn cream blanket and joined pieces of woollen clothing. The backing is a well worn piece of brushed cotton. Machine made.
11900 x 1870 mm
History:
This quilt was purchased at the clearing sale at Selby Grange, Brocklesby NSW in the 1980s.
Story:
Attributed to Catherine Anderson who lived at Selby Grange with her husband Robert in the 1920s.
Related Quilts:

Small patchwork piece possibly made from salesman's samples. There is no opening in the back so it is not a cushion cover. There is no padding. The backing is green polished cotton. There is a 40mm fringe around the edge.
520 x 520mm

Patchwork quilt, all cotton including cotton padding. 'Tree of Life' pattern. All 'Trees' are on white squares and are red or blue. Alternating squares are fawn or white. Simple diagonal quilting. Hand stitched.
1880 x 1728mm

Randomly patched quilt in many different colours and fabrics. There are appliquéd shapes over many pieces including Suffolk Puffs, hearts, hexagons and other shapes. There is an embroidered inscription "A11 to S11 1829" which is thought to mean AN to SN 1829. There is no padding and the backing is white cotton.
2000 x 2200mm

Double sided quilt. One side is frame with borders of wool rectangles mainly offcuts of men's suiting from tailors' shops. The other side is mainly flannelette in stripes and patterns similar to pyjama material. The padding is pieced patches of worn jumpers that were too matted to be unpicked. Machine construction.
1700 x 1490mm

Quilt made of Suffolk Puffs or flattened circles, in different bright colours in cotton and silk. Large single bed size.

Patchwork quilt, all cotton including cotton filling. "8 pointed star" with turkey red surround, white background. Hand stitched and hand quilted.
2109 X 1727mm