Quilt No.453RCH - Red Cliffs Historical Society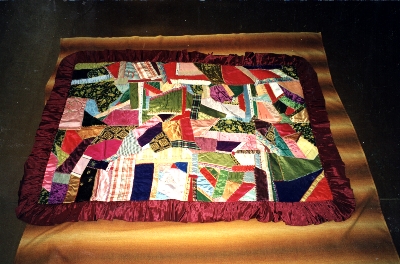 Owner:
Red Cliffs Historical Society
Description:
Crazy patchwork quilt pieced from velvets, satins, braids, taffetas, cottons with some decorative stitching. A ruffle and the backing are in ruby red satin. There is a dacron type padding.
1620 x 1200mm
History:
The quilt was made by Florence Beaton of Sunshine Farm in the 1950s or 1960s. It is now owned by the Red Cliffs Historical Society at Red Cliffs, Victoria. The society also has a fine collection of Florence and Clara's needlework.
Story:
Florence (Flo) Beaton (born McNabb) 1920-1996 was the daughter of Clara and Frank McNabb who selected block 46 at Carwarp in the harsh mallee country of north western Victoria in 1913. They called it "Sunshine Farm". Florence was one of 4 childrten (3 boys). She recalled* that her Mother Clara once won a nail driving competition, was an expert with a shotgun, worked on the farm driving a team of horses, had a wonderful garden and was a fine needlewoman as was her mother Ellen before her. Flo carried on the needlework tradition of her mother and grandmother and was accomplished in many types of needlework including making quilts. Flo did not have any children.
*Ref: "A Woman's Work" By Florence Beaton. The story of a Mallee farmer's wife from 1913. Published by The Sunnyland Press, Red Cliffs 1985.
Related Quilts:

Quilt made from woollen dressmaking scraps, sewn to an army demob issue blanket, grey with blue stripes. Patches are feather stitched in red broder cotton thread. Quilt is edged with red cotton material zig zagged into place. Colours are pink, blue, brown, black and grey, in plain cloth, weaves and checks.
1462 x 966mm

The top has a segmented circle in the centre surrounded by a border of small rectangles. The circle is featherstitched on to the background. Materials are wools and cottons and it is hand pieced. The other side appears to have been originally men's suiting materials strip pieced. It is now covered with a children's print in light cotton joined in long rectangles. The padding is coarse heavyweight cotton.
1410 x 1080mm

Patchwork quilt of square and rectangular patches, mainly in cotton fabrics, in plains and prints. Colours are predominantly yellow, pinks, blues and prints on white. Backing is the same except there is a piece of patterned curtaining material as a patch across the middle width. Padding is old blanketing.
1830 x 1140mm

Machine sewn quilt made from 125mm squares of scraps left over from dressmaking joined in strips and then the strips joined. There is a border of fawn cotton and the backing is the same material. The padding is an old blanket and the border is padded with sheep's wool.
1400 x 925mm

Patchwork quilt made from squares and rectangles of pink, blue and white fabric set with a frame of pink and white print around a centre rectangle made of 4 pink triangles. Four corner squares of blue and white stripes, Many squares are pieced from smaller scraps. The Material is a crepe type, possibly used for underwear. Handsewn and machined. Backing is made from cotton scraps, possibly lawn or similar. Padding is flanellete or similar. Edges are bound in a striped material. Quilt shows signs of wear.
620mm x 520mm

Utilitarian quilt. The padding is pieced used clothing and possibly reused blanket. The top and backing are machine pieced cotton scraps in a wide variety of pattern and colours.
1626 x 1601mm