Quilt No.476JEC - Janine and Eva Chick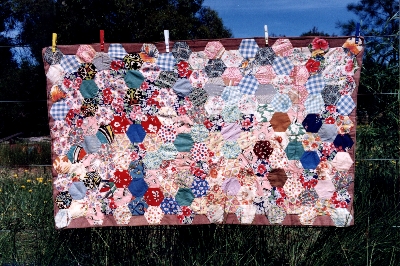 Description:
Hexagon quilt, hand sewn, using a wide variety of patterned and plain cotton scraps left over from dressmaking. 6 hexagons are placed around a centre one. There is no padding. The backing is brown flannel turned over to the front with hexagons hand stitched to it.
1220 x 763mm
History:
Doreen Vincent made the quilt in 1935 for her great grand daughters Janine and Eva Chick as a cot quilt. It is stored at the home of Mr.and Mrs. L.R. and F.E Chick (grandchildren) but is owned by Janine and Eva Chick.
Story:
"This quilt is a replica of quilts made each year by the Ladies Guild at Holy Trinity Cathedral Wangaratta. Each member sewing together by hand a block 8 inches wide. Each separate piece hand sewn, and tacked, and hemmed over a six sided piece of heavy brown paper, joined around a centre piece and at the meetings put in a big box to be finally joined up. Grand Mother Doreen Vincent, each year had the job to join up all the collection up on the kitchen table and tack them all on to a quilt size length of washed calico. Then when finished the quilt was donated to a church home. When the great grand children arrived a quilt was lovingly made for Janine and Eva's cot. Bits of everybodys dresses and very colourful. Leaving behind a loving memory of great Gran for all our family to treasure." [Faye Chick 26.11.1998]
Related Quilts:

This domestic Wagga is two layers of woollen army blankets with the top layer in rectangles joined in rows. The backing is hessian bags that originally contained meat meal.
11650 x 1130mm

Single bed quilt made up entirely of hexagons in 'Granny's Flower Garden' pattern. The rosettes are made up of 8 hexagons and a central one. Native flower prints, including wattle, on a white background. Plain hexagons in white, yellow and blue form a scalloped border. Hexagons are hand stitched and the 2 layers are quilted in running stitch. The backing is a pieced sheet.
2400 x 1500mm

The quilt is a repeat block in the Ohio Star pattern in turkey red and cream. Quilted in squares in the cream block and diagonal lines in the star block. The fabric border is disintegrating. The backing is cream calico and the padding is cotton, badly degraded. 1940 x 1760mm.

Suffolk Puff quilt with puffs mainly in patterned cotton pieces saved from 60 years of household sewing. Puffs are formed into rosettes and the holes are on the top making a decorative feature. It is hand sewn.
2700 x 2400mm.

Pieced repeat block, in what the owner calls 'Our Village Green' pattern. Wide variety of patterned and plain materials. Finely quilted. Padding is cotton and the backing is white calico. 2180 x 1890 mm.

This quilt consists of rows of pieced blocks approximately 280mm square sewn directly on to a foundation square. The design is really a version of 'log cabin' set on the diagonal. The backing squares are made from flour bags including a number stamped in blue ink "The Defiance Milling Company��..Toowoomba NET 3 lbs". Another is stamped in green ink "Parsons Rolled Oats". Two short sides and one long side of the quilt are bound in apricot coloured cotton.
1960 x 1700mm