Quilt No.476JEC - Janine and Eva Chick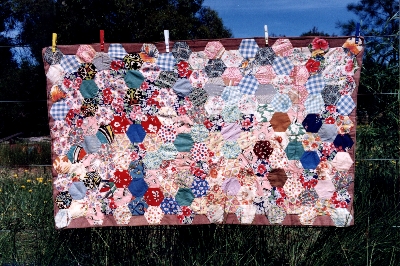 Description:
Hexagon quilt, hand sewn, using a wide variety of patterned and plain cotton scraps left over from dressmaking. 6 hexagons are placed around a centre one. There is no padding. The backing is brown flannel turned over to the front with hexagons hand stitched to it.
1220 x 763mm
History:
Doreen Vincent made the quilt in 1935 for her great grand daughters Janine and Eva Chick as a cot quilt. It is stored at the home of Mr.and Mrs. L.R. and F.E Chick (grandchildren) but is owned by Janine and Eva Chick.
Story:
"This quilt is a replica of quilts made each year by the Ladies Guild at Holy Trinity Cathedral Wangaratta. Each member sewing together by hand a block 8 inches wide. Each separate piece hand sewn, and tacked, and hemmed over a six sided piece of heavy brown paper, joined around a centre piece and at the meetings put in a big box to be finally joined up. Grand Mother Doreen Vincent, each year had the job to join up all the collection up on the kitchen table and tack them all on to a quilt size length of washed calico. Then when finished the quilt was donated to a church home. When the great grand children arrived a quilt was lovingly made for Janine and Eva's cot. Bits of everybodys dresses and very colourful. Leaving behind a loving memory of great Gran for all our family to treasure." [Faye Chick 26.11.1998]
Related Quilts:

"The Rajah "quilt" is a patchwork and appliquéd bed cover or coverlet. It is in pieced medallion or framed style: a popular design style for quilts in the British Isles in the mid 1800's. There is a central field of white cotton decorated with appliquéd (in broderie perse) chintz birds and floral motifs. This central field is framed by 12 bands or strips of patchwork printed cotton. The quilt is finished at the outer edge by white cotton decorated with appliquéd daisies on three sides and inscription in cross stitch surrounded by floral chintz attached with broderie perse on the fourth side. All fabrics used in the Rajah quilt are cotton with the exception of small amounts of linen and silk threads. The quilt shows evidence of being produced by many hands." [NGA] The quilt is not padded or lined. 3372 x 3250mm

Quilt in mauve, pale blue and white squares, with wide borders of floral and off white. The quilting is a centre medallion with leaves on the border, and cross hatched over all. The padding is cotton batting, and the backing is plain white cotton. 2180 x 1900 mm.

Crazy patchwork quilt pieced from velvets, satins, braids, taffetas, cottons with some decorative stitching. A ruffle and the backing are in ruby red satin. There is a dacron type padding.
1620 x 1200mm

Cotton quilt in pattern commonly known as "Double Wedding Ring'. Probably an American McCall's pattern. Hand stitched, florals, checks and plain pieces. The backing is pink cotton. Scalloped edge.
2300 x 1880mm

Patchwork quilt has three centre squares, one in blue/white/brown in a cross pattern, one in framed square, one with diagonal strips in a pink frame. The rest of the quilt is made from strips of rectangles in different sizes sewn in rows. There is a narrow pieced frame, then an outer border of pieced rectangles. Mostly pastel colours. No padding. Backing is calico. There is a little embroidery.
2160 x 1601mm

Patchwork quilt made of rectangles of woollen fabrics from dressmaking projects. Pieces have been stitched together in no particular order. Colours are predominantly dark red and light grey, with some green, pink and blue. Fabrics are plain, checks and weaves. No padding or quilring. Backing is yellow curtain fabric.
2200 x 1100mm