Quilt No.476JEC - Janine and Eva Chick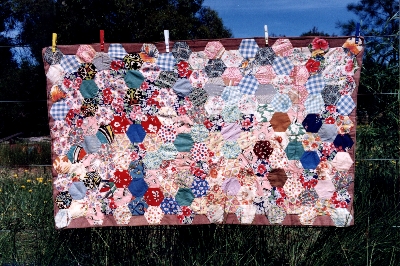 Description:
Hexagon quilt, hand sewn, using a wide variety of patterned and plain cotton scraps left over from dressmaking. 6 hexagons are placed around a centre one. There is no padding. The backing is brown flannel turned over to the front with hexagons hand stitched to it.
1220 x 763mm
History:
Doreen Vincent made the quilt in 1935 for her great grand daughters Janine and Eva Chick as a cot quilt. It is stored at the home of Mr.and Mrs. L.R. and F.E Chick (grandchildren) but is owned by Janine and Eva Chick.
Story:
"This quilt is a replica of quilts made each year by the Ladies Guild at Holy Trinity Cathedral Wangaratta. Each member sewing together by hand a block 8 inches wide. Each separate piece hand sewn, and tacked, and hemmed over a six sided piece of heavy brown paper, joined around a centre piece and at the meetings put in a big box to be finally joined up. Grand Mother Doreen Vincent, each year had the job to join up all the collection up on the kitchen table and tack them all on to a quilt size length of washed calico. Then when finished the quilt was donated to a church home. When the great grand children arrived a quilt was lovingly made for Janine and Eva's cot. Bits of everybodys dresses and very colourful. Leaving behind a loving memory of great Gran for all our family to treasure." [Faye Chick 26.11.1998]
Related Quilts:

Quilt made of hexagons in cotton materials, the hexagons set in the 'Grandmother's Flower Garden' pattern with 6 patterned patches set around a plain coloured centre patch and white hexagons forming 'paths'. There is a white cotton backing with the edges turned under all the way around and top and backing are joined by a blue machine sewn satin stitch. The patches are hand sewn.
2160 x 1830mm

Quilt made of Tailors' wool samples in stripes, checks and plain,, rectangles in different sizes machined together in strips. Colours are grey, navy, brown, light grey and cream. Lining or backing is of patterned cotton, in three layers as it has worn and been replaced. Machine and zigzag quilting.
1626 x 1271mm

Patchwork quilt. All cotton with cotton filling. Entirely made of hexagons, patterned and plain. 6 hexagons surround a central one. Colours, red, blue, yellow and white. Hnad stitched and hand quilted.
2108 x 1702mm

Patchwork quilt made from hexagon patches of cotton, silk, brocade, sateen and wool. Some silk patches are individually lined. Colours are mainly red, blues, purple, black, yellow and brown, with some pastels. Many silk patches have disintegrated, showing the paper templates. Quilt has a brown cotton inner lining, then a blue cotton backing, and is edged on the reverse with checked silk. Hand sewn by more than one person: one experienced sewer, one not so experienced.
1370 x 1170mm

The body of this quilt is hexagons. This centre piece is surrounded by an applique border of birds and flowers and donkeys on see-saws. The flowers have been elaborately pieced from a great variety of materials. Some of the birds have pres studs for eyes.

A 'Farm Life Quilt' made from alternate squares of beige linen and brightly coloured cotton headcloth. The coloured squares are farm animals and birds in a variety of embroidery stitches. The beige squares have a cornucopia design embroidered in dark brown stem stitch. There is a wide border front and back of beige linen. The backing is brown and white check cotton. There is no padding.