Quilt No.481ED - Eileen Dinning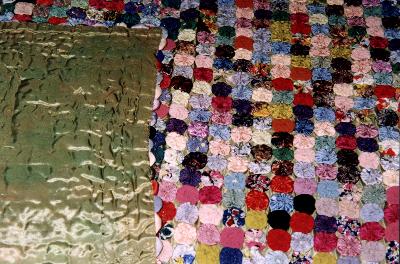 Description:
Quilt of over 6000 suffolk puffs (also called yo yos) in a mix of cotton and synthetic materials. The top is hand stitched on to a satin backing.
2413 x 1626mm
History:
The owner purchased the quilt at a garage sale for $75. It is not now used.
Related Quilts:

Silk and velvet frame quilt with centre patchwork block of squares and triangles with a top and bottom border of silk in Royal Stewart tartan. This rectangular centre frame is surrounded by plain and 'saw tooth' (triangles) borders. The outer border is dark grey silk embroidered in pastels in stem stitch in a meandering vine and leaf pattern. There is no padding or quilting. Backing originally of mustard wool material machine stitched along turned in edges. Dark red cotton is attached to original backing.
2015 x 1320mm

Cotton quilt made in the USA. The pattern is called 'Turkey Tracks'. It has a cotton backing and a bottle green binding. The red patches have faded to pink. The quilt is hand pieced and hand quilted. Two names are written on tape sewn on the back viz: Cora Phelps and M.Hoover.
2135 x 1727mm

Machine pieced cot quilt made from squares of material including tweed, wool, blanket and pyjama material. The squares are joined in rows with colours randomly placed. There is a pink satin edging. The backing is part of a pale pink blanket.
1150 x 900mm

This quilt is allover crazy patchwork not done in squares. Many pieces are awkward shapes. In the centre is a 150 x 150mm square of squares each 25mm repeating some of the materials in the quilt. Most of the materials are velvets, satins and silks. There is a border of red and green patterned wool and all seams are feather stitched in a thick gold thread. The padding is thought to be flannelette and the backing is polished cotton in faded red and green.
2560 x 2160mm

Frame quilt with the centre frame featuring stars. These are English pieced and then appliqued on to the background using straight stitch on the machine. Borders are squares, rectangles and truangles. Mainly cottons. There is no padding. The backing is an old white bedspread similar to a Marcella.
1900 x 1930mm

Patchwork quilt of square and rectangular patches, mainly in cotton fabrics, in plains and prints. Colours are predominantly yellow, pinks, blues and prints on white. Backing is the same except there is a piece of patterned curtaining material as a patch across the middle width. Padding is old blanketing.
1830 x 1140mm