Quilt No.509SM - Sally Mitchell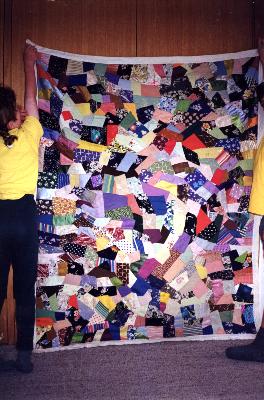 Description:
Crazy quilt of mainly synthetic dress materials. Top stitched by machine on to a mattress ticking base.
1450 x 1150mm
History:
The quilt was made by Mrs. Clare Trevillian (born Coombe) in Tasmania in the 1940s. It then passed to the present owner's grandmother Easter Stevens (born Coombe) sister to Clare then to the owner's mother Patricia White (born Stevens). It is not used now.
The quilt was repaired in the 1970s with some more top stitched pieces and backed with calico and an old blanket.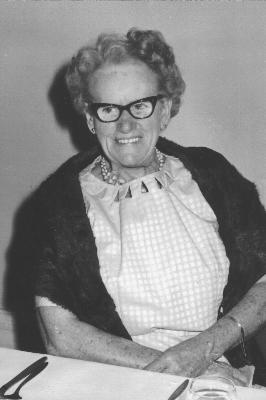 Related Quilts:

Repeat block in Ohio star pattern. Wide border of triangles, pieced blocks and stripes. Stars are in greens, pinks, mauves (all now very faded) and white. Wreath quilting in squares with smaller wreath quilting in triangles. There is padding and the backing is a poly/cotton sheet. 2500 x 2450mm

Patchwork quilt with diagonal arrangement. All cotton including cotton padding. Hand sewn and quilted.
2109 x 1702mm

Double sided quilt. One side is different shapes including rectangles in various sizes in wools and men's suiting material. It is hand pieced. The pther side is mainly cottons in florals of different patterns joined in strips of varying width and machine and hand pieced. There is a 25mm binding. The padding is an old blanket.

Patchwork quilt made from hexagon patches in satin and nylon, the nylon overlaid on satin. Fabrics are plain, in a mixture of dark and light colours. No padding. Backing is of pink satin with pink satin ribbon covering the joining seams. Hand sewn with some machine stitching. Feather stitching along the edge. There is no padding.
2211 x 1752mm

This domestic Wagga is two layers of woollen army blankets with the top layer in rectangles joined in rows. The backing is hessian bags that originally contained meat meal.
11650 x 1130mm

Patchwork quilt of hexagon patches with a large central group of 14 rows, then groups or 'flowers' of 6 patches placed over the rest of the quilt. The colours are red, black, white and blue, in a mixture of stripes, florals and plains. No padding. Backing is a double bed sheet. Hand sewn.
2591 x 2566mm