Quilt No.945NTW - National Trust of Australia (WA)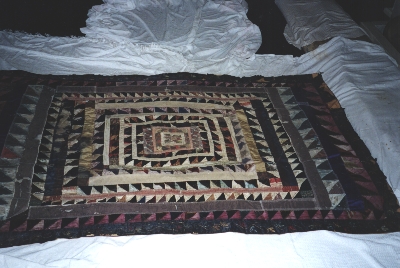 Description:
Silk and velvet frame quilt with centre patchwork block of squares and triangles with a top and bottom border of silk in Royal Stewart tartan. This rectangular centre frame is surrounded by plain and 'saw tooth' (triangles) borders. The outer border is dark grey silk embroidered in pastels in stem stitch in a meandering vine and leaf pattern. There is no padding or quilting. Backing originally of mustard wool material machine stitched along turned in edges. Dark red cotton is attached to original backing.
2015 x 1320mm
History:
The maker and country of origin are unknown. The quilt is thought to date between 1890 and 1920. It is now part of the National Trust WA Quilt collection and is stored at Woodbridge, Midland WA.
Related Quilts:

Hand pieced crazy quilt in a variety of plain coloured velvets. All seams are over embroidered in a variety of stitches. There is no padding and the backing is heavy black cotton. 1900 x 1630mm.

Irregularly patched from a variety of cotton dress prints, checks, plains and mattress ticking. 1920s and 30s fabrics. Both top and back are similar. Hessian padding. Originally two single quilts, now stitched together.
1850 x 1720mm

Cotton quilt, machine sewn and hand quilted. Pattern similar to Double Irish Chain. The background is white and the small squares mainly patterned in pinks, blues, lilacs and greens. The backing is plain white cotton and the padding, which is lumpy, could be some type of cotton.
2057 x 1220mm

Quilt made with a rectangular centre panel of cotton fabric printed with red poppies and black flowers in a japanese style. The panel is surrounded by a wide black satin border. The backing is of black cotton, covering a previous backing of green floral cotton fabric. The padding is feathers.
1700 x 1370mm

Patchwork quilt of hexagon patches in a variety of colours and fabrics, including cottons, wool, lace, nylon. Edging is of yellow cotton. It is backed but there is no filling or padding.
2470 x 2100mm

Double sided utility quilt made from machine pieced squares of tailors' samples and men's and boy's suitings. The padding is 5 or 6 layers of pieced used clothing including darned, threadbare socks, part jumpers, blanket pieces etc.
2090 x 1340mm