Quilt No.528DT - Di Tement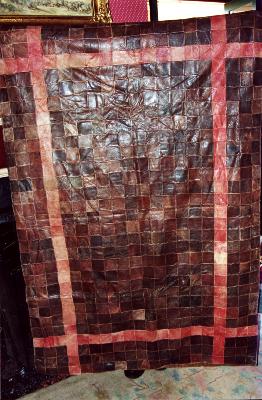 Description:
Leather buggy rug constructed from hundreds of squares each 60mm. There is a pink band of the same size squares 3 rows in from each border. There is no padding. The backing is a towelling type material. 1140 x 1700mm
History:
This buggy rug is part of the 'Adam Tement Collection'. Adam Tement 1962-1990 lived in Launceston and was a serious collector of Australian pottery of which he had a very fine national collection. He later "fell in love with quilts" [Di Tement]. Adam died of cystic fibrosis and the quilts are now owned by his mother Di.
Related Quilts:

Kangaroo skin cloak of seven gores is made from the skins of seven grey kangaroos (Macropus fuliginosus). The skins vary in size and shape, the inner five are roughly triangular. The cloak is edged with a series of loops, through one of these near the collar is a piece of cloth which appears to have tied the cloak together. The skins are sewn together with two sorts of linen or cotton thread. In a small diamond-shaped gusset at the back of the neck there are some stitches of sinew. The skins are sewn together by means of a small hem which was turned back on to the fur, so stitches went through two layers of skin on each gore. There are some small holes in the skins. The skins are very soft and pliable, and greyish in colour; they vary in size and shape. Longest part: 800mm Ref: MA Thesis 1973, S.Meagher 'A Reconstruction of the Traditional Life of the Aborigines of the S.W. of Western Australia.

Crazy patchwork cot quilt made from a wide variety of materials, patterned and plain. Some seams are overstitched with feather stitch and herringbone. One of a pair. There is no padding. The backing is taffeta.
1500 x 2000mm

Crazy patchwork quilt of pieces of plain and patterned silks in bright and pastel colours, each patch edged and decorated with a variety of embroidery stitches, including star, spider, french knot and feather and herringbone variations. 2 patches of early aniline dyed blue silk. Motifs of tennis racquet, horse shoes, fan and some embroidered flowers. The patches are stitched to coarse linen. There is a wide border of red plush velvet turned to the underside. There is no padding. The backing is red polished cotton.
1550 x 1435mm

This 'Quilt' is made from an army great coat from the second world war. The seams have been unpicked and pieced together by machine zig-zagging the flat edges (with Singer treadle sewing machine). The pocket slits are turned back and seamed rather than being pared off. The outside edges are turned over and blanket stitched in red. It does not have a backing.
1620 x 1180mm

Possum skin cloak. Possum skins sewn together with vegetable fibre or kangaroo sinew. Designs incised into the skins, some of which are decorated with ochres. 2070 x 1540mm

"English patchwork pieces. 1110mm x 1500mm. Hand pieced by at least two people. Made from scraps, cut down clothing and sheeting. Backing made from shirtings, dress fabrics, furnishing fabric and ticking. No synthetics. Machine quilted. Condition, fragile�.." [Dubbo Museum]