Quilt No.99QWH - The Queensland Women's Historical Assoc.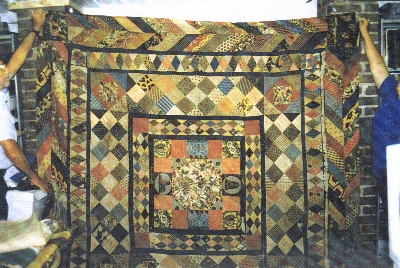 Description:
Frame quilt in cotton with cotton backing. Centre square of floral chintz surrounded by 8 smaller squares with floral and probably Egyptian motifs. 4 surrounding frames of plain and patterned cotton in squares, diamonds and strips. Hand stitched and hand quilted. Has been used as a curtain and has metal rings attached to one edge.
3759 x 2286mm
History:
The quilt was made in England in 1832 by the Mother of Major John Kent.
Related Quilts:

Utilitarian quilt made from large pieces of wool, flannel and cotton. Machine construction and the padding is wool.
1570 x 152Omm

Cotton patchwork quilt in an all over pattern of diamonds in a wide variety of patterned and plain materials. Many seams are oversewn in feather stitch which goes through to the backing of calico.
1625 x 925mm

Snow Ball' cotton quilt made in the USA. Feed bag materials and dress materials. Hand pieced and hand quilted. Calico border and backing.
2058 x 2007mm

Double sided frame quilt. All reused materials including corduroys, wools and light weight suitings. Machine made and not quilted There is no padding as already heavy and warm.
1780 x 1530mm

Cot quilt of mixed textiles and techniques. Made in sections and stitched together possibly with some padding. It features embroidered and appliqued animals (cats, donkey, elephant, squirrel, birds, kangaroo, emu) and nursery rhyme characters. Materials are cotton, silk, wool, imitation fur. There is a black velvet patch with a cross stitch parrot and embroidered date and initials 'May 1925 AE'. The backing is woven self patterned curtain material. There is a ruffle around the edge in the same material.
1400 x 930mm

This is one of two single bed quilts in a pattern the owner calls 'Martha Washington's Flower Garden'. Flowers are in six hexagons in a variety of prints with a plain coloured centre. The background is cream, and the backing is calico. 2500 x 1800 mm.