Quilt No.860AG - Annette Gero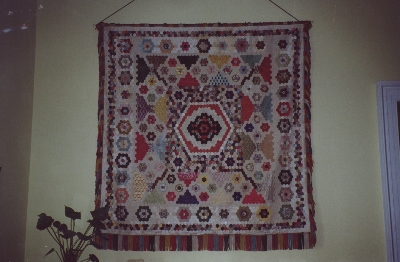 Description:
Hand pieced hexagon quilt or table cover with centre motif of hexagons within hexagons. The remainder of the quilt is mainly hexagon rosettes. The materials are silks and brocades and it is pieced over papers in the English tradition.
1710 x 1600mm
History:
This quilt was made in England but has been in Australia for a long time and it is thought to have been made early last century. It is now in the collection of Annette Gero.
Related Quilts:

150mm squares of old material scraps, mostly cotton, including some curtain material. There is no padding and the backing is brown lawn.
2540 x 2370mm

Patchwork quilt with diagonal arrangement. All cotton including cotton padding. Hand sewn and quilted.
2109 x 1702mm
Patchwork top with a centre frame of a mauve cross outlined in black within a square bordered with pink. The rest of the top is rectangles and squares in a wide variety of materials. There is no padding. The backing is brown, possibly curtain material.
1910 x 1480mm

Patchwork quilt made from cotton fabrics in stripes, small prints, and plains. Centre block is pieced red and white triangles within a blue and white striped frame, with a row above and below of triangles in a flying geese pattern. Two rows of triangles in the flying geese pattern are on either side the full length of the quilt. Quilt is bordered with red cotton. Colours are red, white, pink, blue and yellow. Padding is probably a woollen blanket, the backing is linen. Closely quilted all over.
2180 x 1930mm

Patchwork quilt made from hexagon patches in satin and nylon, the nylon overlaid on satin. Fabrics are plain, in a mixture of dark and light colours. No padding. Backing is of pink satin with pink satin ribbon covering the joining seams. Hand sewn with some machine stitching. Feather stitching along the edge. There is no padding.
2211 x 1752mm

The quilt on longer exists, just the label, but the quilt was squares of flannelette shirt material, velvets and woollen pieces. The backing was calico. The label was sewn to the backing and it reads: 'Red Cross Killarney Manitoba'. It is embroidered in red and is on a white piece of sheeting.