Quilt No.530DC - Diana Cameron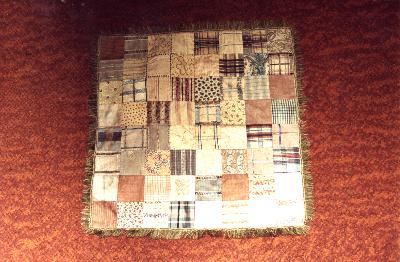 Description:
Small patchwork piece possibly made from salesman's samples. There is no opening in the back so it is not a cushion cover. There is no padding. The backing is green polished cotton. There is a 40mm fringe around the edge.
520 x 520mm
History:
The maker and country of origin are unknown. The present owner, Diana Cameron, is well known in Launceston for her knowledge of textiles and as a quilter. She has been quilting since the 1930s, her mother having taught her 'English piecing'.
Related Quilts:

Yellow and white cotton Durham quilt with centre panel of patchwork blocks in counterchange design called 'Plate'. There is a wide yellow border and square white corner blocks. It is padded and there is a yellow backing. It is quilted all over following the patchwork pattern in the centre panel. Feather pattern border.
2120 x 1720mm

Frame cot quilt in cotton fabrics, the centre square in a paisley print surrounded by two plain borders or frames, then two frames pieced in alternate light and dark triangles, then a frame in a floral print. Outer border is of red fabric, longer at top and bottom to make a rectangle. No quilting. Machine sewn.
1050 x 770mm

Patchwork quilt made from hexagon patches on one side, and squares and rectangles on the reverse. Cottons are used, mostly from dressmaking, in bright and light colours. The hexagons form an indented edge on all sides; on the back the rectangles have been cut at the edge to match the hexagon shapes. Hand sewn, the edge machine sewn.
No padding.
1551 x 1373mm

Grandmother's flower garden pattern. All cottons with plain centres to 'flowers' then row of prints and outer row of plains. One hexagon flower has been repaired. Scalloped edges bound with yellow. Hand quilting around the hexagons. The backing is cream cotton and the padding is thin cotton. 2140 x 1780mm.

Hexagonal log cabin quilt. Hexagons constructed of strips with half hexagon dark and half light. These hexagons are then joined to form diagonal light and dark stripes. Machine and hand sewn. Materials are wools, printed cottons, velvets, corduroys, rayons, flannelettes, brocades, pique and taffetas. The backing is a single piece of brocatelle (rayon brocade). There is probably a thin layer of padding.
1400 x 1200mm

"The Rajah "quilt" is a patchwork and appliquéd bed cover or coverlet. It is in pieced medallion or framed style: a popular design style for quilts in the British Isles in the mid 1800's. There is a central field of white cotton decorated with appliquéd (in broderie perse) chintz birds and floral motifs. This central field is framed by 12 bands or strips of patchwork printed cotton. The quilt is finished at the outer edge by white cotton decorated with appliquéd daisies on three sides and inscription in cross stitch surrounded by floral chintz attached with broderie perse on the fourth side. All fabrics used in the Rajah quilt are cotton with the exception of small amounts of linen and silk threads. The quilt shows evidence of being produced by many hands." [NGA] The quilt is not padded or lined. 3372 x 3250mm