Quilt No.530DC - Diana Cameron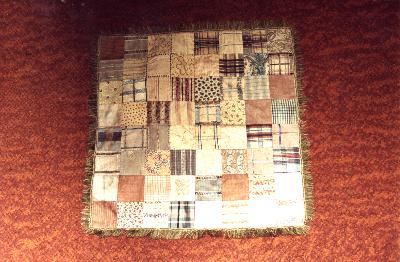 Description:
Small patchwork piece possibly made from salesman's samples. There is no opening in the back so it is not a cushion cover. There is no padding. The backing is green polished cotton. There is a 40mm fringe around the edge.
520 x 520mm
History:
The maker and country of origin are unknown. The present owner, Diana Cameron, is well known in Launceston for her knowledge of textiles and as a quilter. She has been quilting since the 1930s, her mother having taught her 'English piecing'.
Related Quilts:

Large squares, alternate brown check and blue check, of men's dressing gown material. "Everyone's father had one in 40s and 50s". [Pam Clifford]. No padding. Backing is smaller random shapes of men's grey suiting material. Machine construction. There is no quilting.
2236 x 1550mm

The top has a segmented circle in the centre surrounded by a border of small rectangles. The circle is featherstitched on to the background. Materials are wools and cottons and it is hand pieced. The other side appears to have been originally men's suiting materials strip pieced. It is now covered with a children's print in light cotton joined in long rectangles. The padding is coarse heavyweight cotton.
1410 x 1080mm

Double sided quilt made from woollen suiting pieces some of which have hand worked eyelets. Many of the rectangles are irregular. Both sides use similar pieces but arranged in different patterns. There is no padding.
2160 x 1524mm

Unfinished crazy parchwork quilt using a wide variety of mainly cotton scraps in patterns and plains. Machine sewn on to calico base.
1956 x 1677mm

Patchwork cot or pram quilt made of diamond patches in the Tumbling Block pattern. Patches are made from cotton, corduroy and velvet, with red, black, teal blue, green, brown and cream predominating. No padding. Backing is of green wool and the quilt is bound with dark red crushed velvet.
780 x 560mm

Double sided patchwork quilt/rug constructed from squares machined together in strips and then the strips joined. The squares average about 27cms. The materials are mainly woollens, fleck tweed, school jumpers, gren check, and chenille and all are from used clothing.
1800 x 1170mm