Quilt No.54RO - Robyn Oliver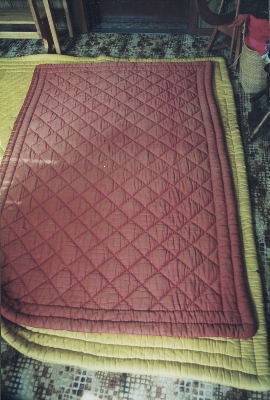 Description:
Wholecloth quilt, brown (tan) sateen both sides. Edges turned in and finished with fine running stitch. Hand quilted, simple cross hatched design with two linear borders. Has had flower shaped hole cut from the centre of one side. 5cm thick.
2290 x 1350mm
History:
Purchased from the estate of Erice Zilliotto (nee Barratto) Griffith NSW by the present owner.
Story:
Erice Zilliotto (nee Baratto) was born in 1913 in Cavaso, Treviso, Italy. She could machine knit by the time she was 11. Later she moved to Rome where she had a machine knitting business at home, employing 2 - 3 girls. She knitted for nuns at the Vatican. Around 1962 she came to Australia on holiday, met her husband in Wollongong, and they moved to Griffith. There she did knitting by private order, and produced some fine courtelle suits and dresses. Her mother, born in 1893, was also a machine knitter. Her sister Bianca also learned to machine knit, not at home, but from the monastery.
Angela and Erice Zilliotto were the first and second wives of the same man. They came from the same town in Italy and their quilts were found in the same house in Griffith.
[Robyn Oliver 1998]
Related Quilts:

Wholecloth pram quilt with a top of pink cotton sateen, and the reverse is a more finely woven, ivory, fabric. All over quilting design as main feature, with stylised hearts, leaves and cross hatching. The padding is cotton batting. 870 x 660 mm.

Hand stitched, cotton, appliquéd, quilt in a flower pattern on a plain background. Colours are shades of green, apricot and browns. This quilt was known as a 'Bride's Quilt'. Padding is thought to be layers of white fabric raised almost like a wadding. The backing is cotton material. 2470 x 2020 mm.

White cotton quilt with blue embroidery. There is a lattice grid embroidered with 30 squares one way and 24 the other and in each square there is an embroidered signature or initial. In one is "The Home Missions Fete 1923" and in the centre "D.A.Cameron, Moderator" the date 1921-22 and 24 signatures within a more heavily embroidered rectangle. There is no padding and the backing is white cotton.
2120 x 1680mm

Wholecloth quilt, yellow sateen both sides. Hand quilted in geometric and curvilinear patterns. Edges turned in, hand finished. Stuffed with flock-like material said by the donor to be wool. Approximately 2.5cm thick.
2500 x 2000mm.

Wholecloth quilt. Top is gold sateen and the backing is gold cotton. Hand quilted in an overall large shell pattern within a border of three parallel lines spaced at 1000, 800, 700mms respectively. The padding is cotton wadding. 2000 x 1800mm
Wholecloth quilt of pink satin with machine qulting in squares across the main part of the quilt, and two rows of two lots of stitching around the wide border. The quare pattern on the quilt top is overlaid with a grid of applied thick white braid. Backing of cotton. Padding appears to be enclosed in white cotton. Fragile condition.
1650 x 1370mm