Quilt No.376MR - Mary Robertson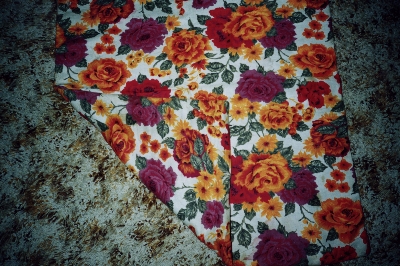 Description:
Domestic Wagga made from 3 bags joined (the bags feel lighter than the jute wheat or flour bags) and covered back and front with floral cotton featuring large roses in red and oranges. The cover is machined.
1750 x 840mm
History:
Made by Mary Robertson and still remains in the family. Stored in their home in Coolamon.
Story:
Mary Robertson made this domestic Wagga rug for their 2 boys to use when they went camping.
Related Quilts:

Wholecloth pram quilt with a top of pink cotton sateen, and the reverse is a more finely woven, ivory, fabric. All over quilting design as main feature, with stylised hearts, leaves and cross hatching. The padding is cotton batting. 870 x 660 mm.

Hand stitched, cotton, appliquéd, quilt in a flower pattern on a plain background. Colours are shades of green, apricot and browns. This quilt was known as a 'Bride's Quilt'. Padding is thought to be layers of white fabric raised almost like a wadding. The backing is cotton material. 2470 x 2020 mm.

Both sides of this wholecloth quilt are made from different floral cottons with a third pattern used to form borders. It is hand stitched and the quilting pattern is squares. The padding is raw cotton.
1740 x 1240mm

Utilitarian quilt made from large pieces of wool, flannel and cotton. Machine construction and the padding is wool.
1570 x 152Omm

Wholecloth quilt with both sides of floral cotton. The padding is thought to be hessian bags.
2060 x 1300mm

Large double sided quilt of rectangles and squares of men's suitings, patterned and plain on both sides. The top has a central motif of a circle of three segmented rings radiating from a single hexagon. The outer ring is all tailors' samples and the inner rings are a variety of materials. There is some featherstitching in red. The quilt is sparsley machine quilted.