Quilt No.597PWH - The Pioneer Women's Hut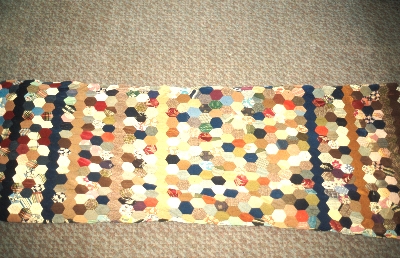 Description:
Continuous 'sleeve' of hand sewn small hexagons, many woollen, some joined, some darned, plain and patterned. Several bands of plain coloured hexagons. The padding is ticking, an old cream blanket and part of a bedspread.
1960 x 800mm
History:
The maker is unknown. The quilt was purchased by a volunteer for the Pioneer Women's Hut for $40 from Graeme Bennett at Campbell's Creek, Victoria. He was an antique/second hand dealer and said it had come with a miner's couch with other household effects from a Melbourne deceased estate and was said to have been made in about 1900. Several generations had lived in the house for a long time. He put little value on it and it was stuffed in a box in a corner upstairs. It is now occasionally displayed at the Pioneer Women's Hut.
Related Quilts:

"This is not a true quilt, but a pieced coverlet with a lining. The entire front face of the quilt is of pieced hexagonal and part hexagonal printed cotton patches. Pieces are joined with hand sewn over casting stitches of many different coloured cotton threads. The joining of the patches forms a 'daisy' pattern in some areas and in others it is random. The edge of the front face of the quilt carries a 40mm strip of cotton Chinoiserie which is then folded to the reverse of the quilt and becomes part of the lining. The template for the hexagon patches remains in many of the patches: writing paper and news print." [NGA]
The work is not padded "The lining at the edge of the quilt (for approx.175mm) is a plain weave fabric of a Chinoiserie design. The centre field of the lining is a rectangular panel of a twill weave brushed cotton fabric with a striped floral design." [NGA] 2215 x 2070mm

Patchwork quilt made in the 'Trip Around the World' pattern, from cottons and some fine dress linen, in bright and pastel solids. Each colour is placed in a diamond shape on the quilt. Patches are 10cm square, quilt has 620 squares. The linen was mainly used to work the cross stitch. Quilt has a 2 inch border in black. Backing is sheeting. Each square is embroidered, with many different stitches, in geometric, floral, animal, insect and abstract designs, in different colours.
2760 x 2350mm

The body of this quilt is hexagons. This centre piece is surrounded by an applique border of birds and flowers and donkeys on see-saws. The flowers have been elaborately pieced from a great variety of materials. Some of the birds have pres studs for eyes.

Machine made cotton quilt with 100mm cotton squares placed diagonally with peaks running around the edge. The colours are mainly autiumn tones and the patterns include checks, tartans, florals, geometric and plains. Materials were scraps left over from sewing projects such as children's clothes. There is a matching valance.

Patchwork Quilt, all cotton including filling. Pattern is "squares and diamonds". Quilt is faded but blue is probably the predominant colour. Hand stitched and hand quilted.
1624 x 1194mm

Continuous 'sleeve' of hand sewn small hexagons, many woollen, some joined, some darned, plain and patterned. Several bands of plain coloured hexagons. The padding is ticking, an old cream blanket and part of a bedspread.
1960 x 800mm