Quilt No.665DC - Diana Cameron
Description:
Cotton quilt of patterned and plain hexagons with central design and borders of hexagons radiating from it. It is hand sewn and most patterns are of roses. Backing is pink sateen and is a replacement backing put on in 1939. Pieced over papers, remnant love letters were found when the new backing was put on.
1981 x 1525mm
History:
The quilt was hand sewn by Jane Cobbold (Cain) c.1880 at 'Yarra House' in South Yarra, Melbourne and passed to the present owner's great aunt and then to her mother and is now owned by Diana Cameron. It is used occasionally.
Story:
Diana Cameron's grandmother, Jane Cobbold, was born in England and came to Australia as William Cain's bride c.1875. 'Yarra House' in Anderson Street, South Yarra was built by William Cain who was mayor of Melbourne (before it was a city so he was not Lord Mayor) about 1890. It is opposite the Botanic gardens and the Cains entertained lavishly for over a decade. 'Yarra House' is now Merton Hall and part of the Melbourne Church of England Grammar School.
Diana Cameron, the present owner, went to the Goondiwindi district as a young bride and the quilt has always been part of her married life.
[Compiled from notes supplied by the owner]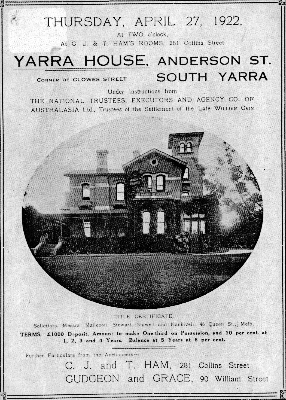 Related Quilts:

Friendship Quilt'. All cotton with thick cotton padding. Each of the large panels of patchwork is different and many are signed by the makers who belonged to the Rebecca Lodge in Linwood California. Dates on the squares with signatures are 1933. Wide variety of colours and patterned and plain fabrics. The quilt is now in 2 pieces.
1981 x 1727mm

Cot quilt of cotton hexagons. There is a central diamond of hexagons and then a repeat diamond motif radiating to the edge. Each hexagon is 40mm. The backing is sheeting or similar and the padding is dacron type.
1200 x 700mm

Suffolk Puff quilt with puffs mainly in patterned cotton pieces saved from 60 years of household sewing. Puffs are formed into rosettes and the holes are on the top making a decorative feature. It is hand sewn.
2700 x 2400mm.

Machine made cotton quilt with 100mm cotton squares placed diagonally with peaks running around the edge. The colours are mainly autiumn tones and the patterns include checks, tartans, florals, geometric and plains. Materials were scraps left over from sewing projects such as children's clothes. There is a matching valance.

Patchwork quilt has pieced blocks in the 'Ohio star' pattern in red print and white cotton, alternating with plain white blocks. Quilt has a 9cm frill in red and grey geometric print cotton, machine stitched around the edge. Quilt appears to have some hand quilting. No padding. Backing is white cotton.
2210 x 2060mm

Patchwork quilt in the Log Cabin pattern, made from cotton fabrics in prints and plains in bright colours. There are 185 squares, all sewn on to check gingham. No padding. Backing is of black cotton.
2718 x 2540mm