Quilt No.687NTV - National Trust of Australia (VIC)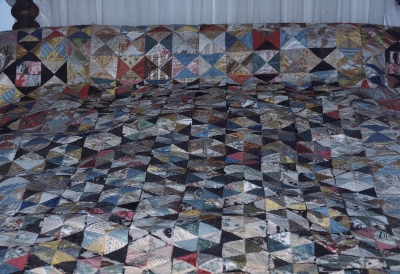 Description:
Hand stitched silk quilt in mosaic patchwork based on triangles. Pieces include dress materials and some embroidered linings fom men's waist coats. Paper templates. The backing is cotton.
2200 x 2000mm
History:
The quilt was donated to the National Trust of Australia (Victoria) by Mrs. L. Stones. It is on display at the National Trust property McCrae Homestead, McRae, Victoria.
Related Quilts:

Log Cabin quilt made from a variety of cottons and silks. There is no padding and the backing is calico bags. 1500 x 1250 mm.

Machine sewn quilt made from 125mm squares of scraps left over from dressmaking, joined in strips and then the strips joined. There is a border of fawn cotton and the backing is the same material. The padding is an old blanket and the border is padded with sheep's wool.
1400 x 925mm

Patchwork quilt made of pieced blocks in the 'Shoofly' pattern, in white cotton and a red, white and blue geometric cotton print. Alternate squares are in the print. The border is made of same size squares in the print. No padding. The backing is a sheet. Hand sewn.
1829 x 1829mm

Patchwork quilt made from cotton fabrics in stripes, small prints, and plains. Centre block is pieced red and white triangles within a blue and white striped frame, with a row above and below of triangles in a flying geese pattern. Two rows of triangles in the flying geese pattern are on either side the full length of the quilt. Quilt is bordered with red cotton. Colours are red, white, pink, blue and yellow. Padding is probably a woollen blanket, the backing is linen. Closely quilted all over.
2180 x 1930mm

Cotton patchwork quilt in an all over pattern of diamonds in a wide variety of patterned and plain materials. Many seams are oversewn in feather stitch which goes through to the backing of calico.
1625 x 925mm

Patchwork quilt made of small squares pieced from four triangles. Each square is 90mm and is joined to the others by a herringbone lacing in yellow rayon crochet thread, so making an open mesh between each square. The quilt is edged with thick yellow rayon corded braid. Each square is backed with gold coloured cotton. No padding.
1730 x 1430mm