Quilt No.701WR - Susan Shannon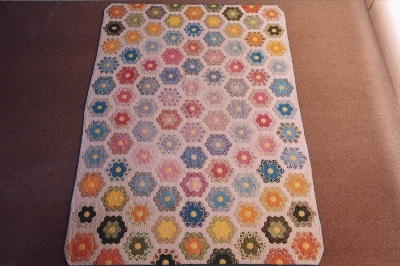 Description:
This hand pieced and hand quilted hexagon quilt is in a pattern often called 'Grandmother's Flower Garden'. The background is white and there are concentric rows of double rosettes each with a yellow centre. The colours start in the centre of the quilt with pink and then follow the rainbow. Paper templates were used. The padding is cotton (American) and the backing is cotton floral poplin.
2360 x 1730mm
History:
The quilt was made by Wendy Ritchie in 1966 in Melbourne for her daughter Susan Jane (now Shannon). Many of the cotton florals used were scraps left from dresses Wendy made for her daughters. Susan was born in 1961 and has always owned the quilt. It was on her bed from 1966 until 1978 when she left home and is not used now.
Story:
"I (the maker of the quilt) embroidered from the first grade at school. Joined the Embroiderers Guild Vic in 1962. Served on the committee and was President from 1980-1983 inclusive. I have taught many techniques starting with English Patchwork in the late 1960s and including a variety of creative techniques in both design and painting/dyeing, machine embroidery and hand stitchery. I was born in Geelong in 1933."
[Wendy Ritchie Melbourne 9.10.00]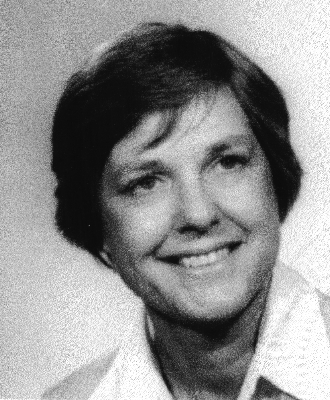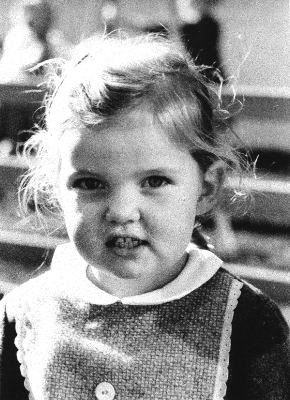 Related Quilts:

Utilitarian quilt made from large pieces of wool, flannel and cotton. Machine construction and the padding is wool.
1570 x 152Omm

Unfinished patchwork top made from hexagon patches in the 'Grandmother's Flower Garden' pattern, in glazed and unglazed cottons and some twill fabrics. 7 patches for flowers with white and some cream patches forming paths. All fabrics are patterned and date from c.1825-1840, including pieces of toile de jouy, stripes and florals. Colours are predominantly reds and blues with some green, brown, purple; one flower is in chrome yellow, 8 flowers are in turkey red indicating probably the latest fabric. The quilt is hand sewn and the papers are in tact in most patches.
1508 x 940mm

Patchwork quilt of cotton hexagon patches grouped in 'flowers', comprising 4 rings of patches around a central hexagon. Prints and plains are used, the colours mainly browns, greens, yellows, dark blue and dark pink. The 'paths' are in a yellow-brown cotton. Cotton backing. The padding is probably an old blanket. The quilt is an irregular shape, and is tied.
2550 x 1870mm

Hand sewn hexagons over paper templates in a pattern known as 'Grandmother's Flower Garden'. Materials are printed dress cottons, patterned and plain, mainly in pinks, blues and browns. The border and backing is grey linen and is machine stitched on. There is no padding. 2060 x 1579 mm.

Rectangular quilt of print and plain cottons pieced in squares and rectangles, the centre group of pieces surround a larger piece of pale blue fabric, within a frame or border, of bright pink material, then 3 rows of squares and rectangles. Backing of plain fabric. Machine stitched on a treadle machine.

Cotton scrap quilt with shapes of diamonds, strip and squares. The quilt has been repaired using machine zig zag in white cotton. There is no padding and the backing is calico.
2175 x 1625mm