Quilt No.758PHM - Powerhouse Museum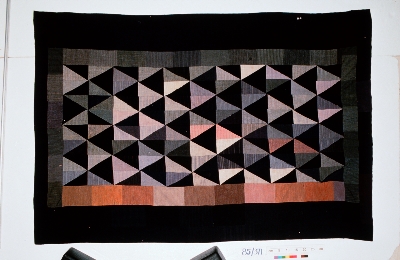 Description:
"A tied patchwork wagga quilt made from swatches of men's wool suiting fabrics in blue/grey and pink/brown tonings. Rectangular swatches have been cut in half diagonally, and the resulting right-angled triangles paired to form larger equilateral triangles which alternate dark with light across the field. The quilt has been machine and hand pieced, then machined in vertical stripes.
The centre field is bounded by two strip-pieced borders at top and bottom, and three down each side. These are sewn from rectangles, using light pink/brown tones for the inner border and darker colours for the...
History:
The quilt was made by Caroline Mary West about 1930 on a property near Trundle NSW in about 1930. It was handed down through the women of the family, to her grandson Mr. Ian Foster of Newport. Ian Foster gave the quilt to the Powerhouse Museum in 1985.
Story:
"The quilt was made by Mrs. Caroline Mary West (nee Bray) in about 1930. Caroline was born on the 14 June 1872 and married a grazier, Everett Pearson West, in 1904. They lived on a property near Trundle, in the centre-west of New South Wales and had six children, four boys and two girls between 1905 and 1915. The quilt is thought to have been made in the 1920s or early 1930s during the Depression. The woollen suiting fabrics used to make the quilt were obtained from Tom Ellis, the local tailor. Caroline Mary West died on 19 March 1947." [PHM]
Related Quilts:

Patchwork quilt made from silk and challis and velvet hexagons set to form diamond shapes. The centre shape has 8 hexagons surrounded by a row of 16 hexagons. The outer border of the quilt is 2 rows of 'Tumbling Blocks' set amongst a variety of black silk and satin patches. There is a wide fringe in red, green, blue and yellow. There is no padding and the backing is a recent addition in red cotton, synthetis mix.
1770 x 1740mm

Patchwork quilt made from hexagon patches on one side, and squares and rectangles on the reverse. Cottons are used, mostly from dressmaking, in bright and light colours. The hexagons form an indented edge on all sides; on the back the rectangles have been cut at the edge to match the hexagon shapes. Hand sewn, the edge machine sewn.
No padding.
1551 x 1373mm

Patchwork quilt with alternate squares of green and fawn cotton headcloth. Various Australian wild flowers are embroidered in coloured threads in the green squares. In the fawn squares there is a stylised flower and leaf pattern outlined in embroidery. The border, front and back is green headcloth. The backing is printed cotton with a floral design. There is some padding.
1610 x 1610mm

Grandmother's flower garden pattern. All cottons with plain centres to 'flowers' then row of prints and outer row of plains. One hexagon flower has been repaired. Scalloped edges bound with yellow. Hand quilting around the hexagons. The backing is cream cotton and the padding is thin cotton. 2140 x 1780mm.

Cotton quilt made in the USA. The pattern is 'Turkey Tracks'. It is machine pieced and very finely hand quilted. The backing is calico and the padding is cotton.
1880 x 1753mm

Quilt of crocheted squares (sometimes known as Granny squares) in pinks, blues, greens and brown, with a green crocheted border edged in brown. Quilt is backed. A cot quilt or a knee rug.