Quilt No.764PHM - Powerhouse Museum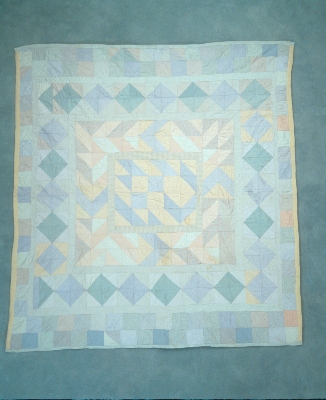 Description:
"A rectangular patchwork medallion quilt or coverlet, machine sewn from delicately coloured plain and printed cotton shirting fabrics in fine stripe, spot and check patterns. The fabrics were probably obtained from a manufacturer's superceded swatchbook. The design is of medallion type with a central rectangular panel surrounded by three deep borders, all separated by narrow strip borders. The central panel and deep borders are made from small triangular patches that form dynamic geometric patterns of squares, diamonds and chevrons. The quilt is backed with patched white cotton fabric,...
History:
The museum bought the quilt in 1986 from Quintessential Curios and Antiques of Newtown Sydney, NSW. No earlier provenance information available.
Related Quilts:

Pieced construction, repeat block format, American Blue Grass pattern. Hand stitched and quilted with a machined edge. Mauve check stars, 8 points, surrounded by 16 point stars in yellow floral. One star per block plus green squares and red strips. The background is yellow cotton and so is the backing. There is a dacron type padding.
1980 x 1740mm

Cotton quilt made in the USA. The pattern is called 'Turkey Tracks'. It has a cotton backing and a bottle green binding. The red patches have faded to pink. The quilt is hand pieced and hand quilted. Two names are written on tape sewn on the back viz: Cora Phelps and M.Hoover.
2135 x 1727mm

Frame quilt in cottons with a centre motif of pieced 8 point star surrounded by borders, 2 from red/white material printed to represent Tumbling Block patchwork. The remaining borders are, one plain, one of pieced squares, one of pieced large triangles with squares in the corner. The outer border is plain. The padding is wool and the backing is cream cotton. It is elaborately quilted.
2400 x 2260mm

The quilt is called 'Loved'. The pattern is log cabin and it is made from dress materials and pyjama flannelette. The original filling was a heavy woollen blanket (now flannelette) and the backing is green headcloth - all government issue. With its restoration, the backing was supplemented with a green floral, and the quilt is now tied. The quilt is machine pieced, some restoration work is done by hand.
2260 x 1920mm

This quilt is allover crazy patchwork not done in squares. Many pieces are awkward shapes. In the centre is a 150 x 150mm square of squares each 25mm repeating some of the materials in the quilt. Most of the materials are velvets, satins and silks. There is a border of red and green patterned wool and all seams are feather stitched in a thick gold thread. The padding is thought to be flannelette and the backing is polished cotton in faded red and green.
2560 x 2160mm

The centre of the quilt is a small blue 6 pointed star surrounded by a larger blue star. Blue stars also form a border to the quilt. The background material is a multicoloured small floral pattern on white cotton. The quilt is all hand worked over templates. The padding is cotton and the backing is polyester sheeting with a border of stars.
2650 x 2475 mm