Quilt No.800DP - Despina Petridis
Description:
Wholecloth quilt made of deep pink satin with a cotton backing in a similar colour. The padding is cotton. It is hand quilted and the pattern is a central motif of a star inside a circle surrounded by parallel lines forming large cable or knot design. The border is of one zig zag and four parallel lines.
1970 x 1770mm
History:
The quilt was made by the quilt maker in Vathi, on the Greek island of Samos in 1962. It was an engagement present from the sister of her future husband, Niko. Despina Petridis came to Australia in 1962 and the quilt was part of her luggage. It is in pristine condition and is not used now.
Story:
"A Paploma From Samos
In 1962 Despina Petridis left Vathi, the capital of the Greek island of Samos, well known for its natural beauty, to come to Canberra, Australia's capital. Her mother, Gramatiki Zonous was very reluctant to see her go; she was only nineteen, and they had no other relatives in Australia. But Despina had made her big decision to leave, for although her dressmaking skills were much in demand, she grew tired of not getting paid for the work she did. These were very difficult years in Greece, and there was little money around.
When she became engaged to Niko, his sister also named Despina, promised her a 'paploma' (quilt) as a wedding gift. It was important to have a 'paploma' as part of her 'prika' (trousseau); all part of the rich, Greek traditions that are associated with preparations for marriage. She had this beautiful pink satin quilt made by a local quilt maker in Vathi, and was able to give it to young Despina before she left for Australia. It is still in its original, pristine condition.
When Despina arrived here, she was well looked after, 'I was fortunate, and fell into good hands, with good people' she recalls. Despina and Niko married in Canberra in 1963, in the small pre-fabricated building used as a church before 'St. Nicholas' was built. They moved forward into married life with a strong commitment to working hard to establish themselves. They now are enjoying their retirement, and regularly visit their families in Greece. They have three children, George, Vicky and Alexandra."
[Written by Lula Saunders, adapted from interview 10.1.01 for the National Quilt Register]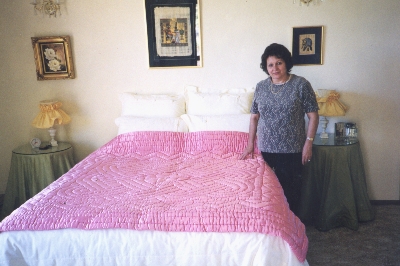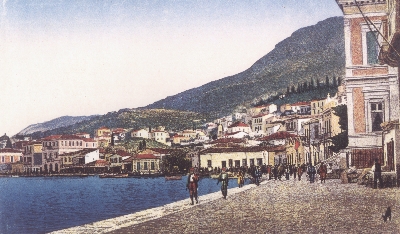 Related Quilts:

Wholecloth pram quilt with a top of pink cotton sateen, and the reverse is a more finely woven, ivory, fabric. All over quilting design as main feature, with stylised hearts, leaves and cross hatching. The padding is cotton batting. 870 x 660 mm.

Hand stitched, cotton, appliquéd, quilt in a flower pattern on a plain background. Colours are shades of green, apricot and browns. This quilt was known as a 'Bride's Quilt'. Padding is thought to be layers of white fabric raised almost like a wadding. The backing is cotton material. 2470 x 2020 mm.

Wholecloth quilt made from deep cherry red satin with a backing of red cotton. The padding is cotton wadding. It is hand quilted and the pattern is a central motif of a large diamond with diamond fill. Each corner has a pattern of curved lines and the quilt border is created by four parallel lines.
2070 x 2000mm

" This coverlet is composed of two pieces of dark blue cheese cloth joined with a row of running stitches down the centre of the coverlet (the seam faces the front face of the coverlet but is hidden beneath a row of appliqué).
The coverlet is decorated with rows of pieced work surrounding appliquéd and embroidered scenes. A panel down the LHS of the quilt and a smaller panel lower RHS depict animals and floral images. In the centre RHS an elderly couple sit beneath a tree. In the upper left a bride and groom accompanied by three flower girls are showered with petals from a wicker basket carried by a very large angel. Glass beads, sequins and a button have been used to highlight the appliqué and embroidery.
As with all of Mary Jane Hannaford's quilts, the work is stitched by hand and quite crudely, but the naivety of the images is overwhelming with their charm." [NGA] The quilt is not padded or lined. 1950 x 1690mm

Hand appliqued, embroidered and quilted, 1940s. Cotton quilt with yellow, pink and purple tulips and green leaves, has scalloped edging with green piping. Hand quilted.
2240 x 885mm

Wholecloth quilt with top of red sateen. Hnad quilted with a large central rosette in a 'gothic' border then square on point border and outer border with rosettes in rectangular corner panel. The backing is cotton sateen with printed floral bouquets. The thick padding is cotton. This type of quilt is called 'cuttunina' in the Sicilian dialect which means 'has cotton inside'.
2360 x 2310mm