Quilt No.801DA - Dora Andonaros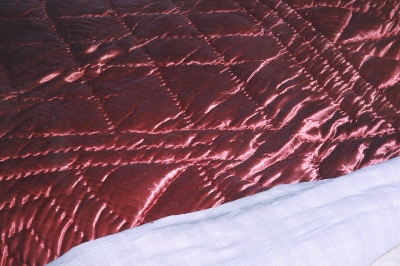 Description:
Wholecloth quilt made from deep cherry red satin with a backing of red cotton. The padding is cotton wadding. It is hand quilted and the pattern is a central motif of a large diamond with diamond fill. Each corner has a pattern of curved lines and the quilt border is created by four parallel lines.
2070 x 2000mm
History:
The quilt was made by a local quiltmaker on the Greek island of Lemnos, village of Varos in 1957. It was ordered by Mary Kalenteridis, already in Australia, for her young daughter Dora's trousseau. It was brought to Australia by Mary's brother Christos. Dora Andonaros is the only owner. It is still used.
Story:
"Dora's Paploma
In 1957 Mary (Zaimis) Kalenteridis came to Australia with her three daughters, Kristalo, Dora (Theodora), and Ellie, leaving behind their village of Atsiki, on the beautiful north Aegean island of Lemnos, Mary's husband George had preceded them eighteen months earlier. After a time in Canberra, the family moved to Goulburn NSW, where their fourth daughter, Bella, was born, and where George owned a men's barber shop for many years.
Although the girls were young, when they arrived - Dora was only seven, Mary wanted them to have a proper 'prika' (trousseau) in preparation for when they would be old enough to marry. So, a short time after arriving, Mary sent back to her island and ordered three quilts, which her brother Christos brought out. The cotton used in their making was grown on Lemnos, and indeed, one of Dora's enduring childhood memories is of her mother, helping to pick cotton at her grandfather's farm. Mary explains that: 'Paplomata (quilts) were considered a top priority for girls. All handmade, they come in different patterns and designs. Often we would pin a 'sindoni' (embroidered shee)t on to the bottom of the paploma, to protect it. The sheet would be removed for washing or for the 'yiortes', special feast days'.
Dora is very fortunate to have such a 'sindoni', handed down from her mother; handwoven on a traditional 'argalio' (loom) and embroidered with the initials, E.X, of the maker. Together the sindoni and paploma stand as symbols of age-old customs and traditions, and of the changes which inevitably happen through migration.
Dora's husband John also came to Australia from Lemnos. They owned a shop for seventeen years, but now live on their five acre farm where they have a vineyard, olive trees and honeybees. Dora and John have two sons, Paul and George; and a daughter Chrisoula. She and her husband Dimitri have a daughter, Evelyn."
[Written by Lula Saunders; adapted from interview 10.1.01 for the National Quilt Register]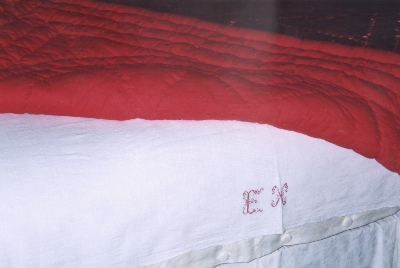 Related Quilts:

Wholecloth pram quilt with a top of pink cotton sateen, and the reverse is a more finely woven, ivory, fabric. All over quilting design as main feature, with stylised hearts, leaves and cross hatching. The padding is cotton batting. 870 x 660 mm.

Hand stitched, cotton, appliquéd, quilt in a flower pattern on a plain background. Colours are shades of green, apricot and browns. This quilt was known as a 'Bride's Quilt'. Padding is thought to be layers of white fabric raised almost like a wadding. The backing is cotton material. 2470 x 2020 mm.

Wholecloth quilt with white cotton centre, sky blue cotton border and dark blue binding. There are 9 repeat designs of cross stitched flowers and leaves in the centre section. Around the blue border there are 18 cross stitched flowers. Blue on blue and white on white cotton quilting of diagonal lines and curls pattern the quilt. The backing is white cotton and there is a very light padding.
2338 x1981mm

"This all white quilt has a front face of fine white plain weave cotton. The quilt is lined with brushed cotton twill. The two layers are quilted with white cotton thread across the entire surface with rows of zigzag stitching 16-20mm apart.
The edges of the quilt have been cut to form scallops and the raw edges here are secured with a binding of fabric similar to that used on the front face of the quilt. All work on the quilt appears to be hand sewn." [NGA] The quilt is not padded. 2655 x 2150mm

Wholecloth quilt of fine cream homespun embroidered with red and white stranded cotton. It is a cross stitch design of roses pre stamped on the material. The quilting consists of a fern pattern medallion in the centre, straight lines and a fern pattern border. The padding is fine wadding and the backing is white sheeting with a small floral pattern,
2160 x 1650mm

Patchwork quilt made for a child. All cotton with cotton padding. White blocks have embroidery depicting different nursery rhymes eg Mary, Mary, Quite Contrary ; Old Mother Goose. These blocks are separated by rectangular strips of teal cotton. The quilt is hand stitched and heavily quilted.
1677 x 1271mm