Quilt No.377MR - Mary and Max Robertson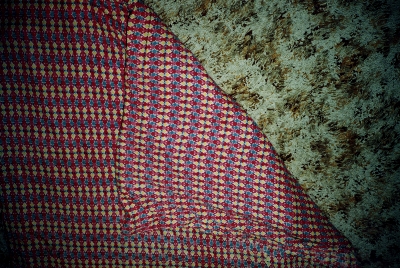 Description:
Traditional Wagga rug made from 3 wheat bags joined along the long side by sewing with bag needle and twine. Machined twill cover was put on later in the 1960s. Originally no padding but now the bags are the padding. One of a pair(identical).
1790 x 1160mm
History:
The original traditional Wagga rug was made by Max Robertson. Later it was covered with the patterned twill material by Mary Robertson. It is not used now but remains in the family, is valued and is stored in Coolamon.
Story:
Max and Mary liked camping with their 3 children and used the Wagga rugs on the camp stretchers in the tent.
Related Quilts:

Wholecloth pram quilt with a top of pink cotton sateen, and the reverse is a more finely woven, ivory, fabric. All over quilting design as main feature, with stylised hearts, leaves and cross hatching. The padding is cotton batting. 870 x 660 mm.

Hand stitched, cotton, appliquéd, quilt in a flower pattern on a plain background. Colours are shades of green, apricot and browns. This quilt was known as a 'Bride's Quilt'. Padding is thought to be layers of white fabric raised almost like a wadding. The backing is cotton material. 2470 x 2020 mm.

Quilt made of 26 x 13 rectangles of woollen men's suiting samples. Each rectangle is about 70 x 130 mm. Wide variety of patterns, mainly stripes, and colous. The padding is part of a worn cream blanket and joined pieces of woollen clothing. The backing is a well worn piece of brushed cotton. Machine made.
11900 x 1870 mm

Yellow and white cotton Durham quilt with centre panel of patchwork blocks in counterchange design called 'Plate'. There is a wide yellow border and square white corner blocks. It is padded and there is a yellow backing. It is quilted all over following the patchwork pattern in the centre panel. Feather pattern border.
2120 x 1720mm

Wholecloth quilt, the cover made of blue and red paisley cotton cretonne, and filled with feathers. The cover is reversible. The machine quilting is a simple pattern of 2 diamonds, one within the other, in the centre, with 3 rows of stitching around the edge of the quilt, forming a wide border.
2033 x 1474mm

Red Applique on an off white background. All applique is by hand using herringbone stitch. Three different red materials are used for the applique each printed with a different tiny all over pattern. There are 3 different applique shapes: the 9 major shapes have 8 points; the daisy pattern has 8 petals; the edge pattern is used along the top, left and half of the bottom edge of the quilt and sometimes has 4 points, sometimes 3 and sometimes 2. There is a tiny red piping around the quilt along the bottom and both sides. It is hand quilted in 100mm long zig zags 12mms apart all over the quilt. The quilt is signed twice on the front, once in ink and once in embroidery. It is signed 'Anna Edwards Jan 1858'. There is no padding and the backing material is similar to the off white background material of the top.
2270 x 2180mm