Quilt No.80RB - Rosemary Blake
Description:
The inner part of the quilt is made from potato bags stitched together. These have been covered with a ticking type fabric held to the bags with large stitches using a string type thread. This whole inner layer is covered with muslin, dyed orange. The dye is thought to have been a Dolly dye. The quilt is very heavy. There are small hand stitches in each corner through all layers.
1770 x 1520 mm
History:
The quilt was made by Mrs. Edith Perrott for her son Glen and his wife Peggy's marriage in 1943. Peggy later gave it to her daughter Rosemary, grand daughter of the maker. It is used occasionally.
Story:
Mrs. Edith Perrott, born Bartholomew, (1879 - 1970) of Tumbarumba NSW made this quilt for her son Glen and his wife Peggy when they were married in Tumbarumba in 1943. It is similar in construction to a smaller one made 2 years later.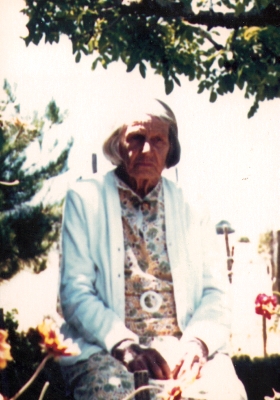 Related Quilts:

Wholecloth pram quilt with a top of pink cotton sateen, and the reverse is a more finely woven, ivory, fabric. All over quilting design as main feature, with stylised hearts, leaves and cross hatching. The padding is cotton batting. 870 x 660 mm.

Hand stitched, cotton, appliquéd, quilt in a flower pattern on a plain background. Colours are shades of green, apricot and browns. This quilt was known as a 'Bride's Quilt'. Padding is thought to be layers of white fabric raised almost like a wadding. The backing is cotton material. 2470 x 2020 mm.

Whole cloth traditional Durham quilt in sateen, pink one side and ivory the other. Elaborately hand quilted. It is padded but the type of padding is unknown. 2030 x 2030mm.

Utilitarian quilt. The padding is pieced used clothing and possibly reused blanket. The top and backing are machine pieced cotton scraps in a wide variety of pattern and colours.
1626 x 1601mm

Wholecloth quilt with top of red sateen. Hnad quilted with a large central rosette in a 'gothic' border then square on point border and outer border with rosettes in rectangular corner panel. The backing is cotton sateen with printed floral bouquets. The thick padding is cotton. This type of quilt is called 'cuttunina' in the Sicilian dialect which means 'has cotton inside'.
2360 x 2310mm

Wholecloth quilt with one side blue satin with a red satin border and the reverse side wholecloth floral cotton. The quilting is parallel lines and squares. It is all hand stitched. The padding is raw cotton.
1740 x 1240mm