Quilt No.505WTH - West Tamar Historical Committee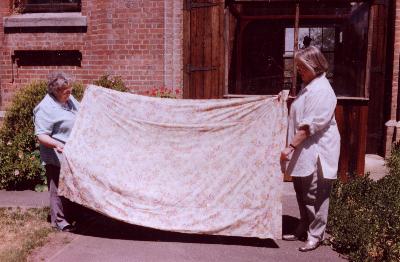 Owner:
West Tamar Historical Committee
Description:
Wholecloth quilt with both sides of floral cotton. The padding is thought to be hessian bags.
2060 x 1300mm
History:
The domestic Wagga was made by Mrs Amy Howard and at some later date was donated to the West Tamar Historical Committee in Beaconsfield Tasmania and is displayed in the Grubb Shaft Museum. It is thought to have been made during the last depression.
Related Quilts:

Wholecloth pram quilt with a top of pink cotton sateen, and the reverse is a more finely woven, ivory, fabric. All over quilting design as main feature, with stylised hearts, leaves and cross hatching. The padding is cotton batting. 870 x 660 mm.

Hand stitched, cotton, appliquéd, quilt in a flower pattern on a plain background. Colours are shades of green, apricot and browns. This quilt was known as a 'Bride's Quilt'. Padding is thought to be layers of white fabric raised almost like a wadding. The backing is cotton material. 2470 x 2020 mm.

Wholecloth quilt. Quilting pattern is a large 'feathered thistle' with thick stem, as the main design feature. The border is a combination of straight and curved parallel lines. Burgundy sateen with damask weave. All quilting is handstitched. Padding is cotton wadding and backing is tomato red cotton. 2150 x 1820 mm.

The cotton quilt top is blue featuring a floral design in the centre and a matching border. The main quilting pattern relates to this. There is a wide gold cotton border with a quilting pattern of parallel lines and diamonds. The backing is plain red cotton. The padding is cotton wadding.
2040 x 1750mm

4 Pieces of a patchwork quilt which was formerly a whole quilt. It is pieced in cottons in blues reds and browns in many prints. There are whole circles and pieced circles against a plain cream calico background. It is wool lined and is quilted. There are the initials 'A.B.' and '1828' on a central piece. The 4 pieces are various sizes.

Wholecloth quilt of white cotton with hand appliqued flowers in 3 shades of red. The centre of the quilt has 6 separate flowers radiating from a circle and each corner has a separate arrangement of flowers. The white cotton quilting is in diagonal lines and a daisy pattern. There is a narrow red border widely scalloped. The backing is white cotton. There is no padding.
2236 x 1905mm