Quilt No.849AG - Annette Gero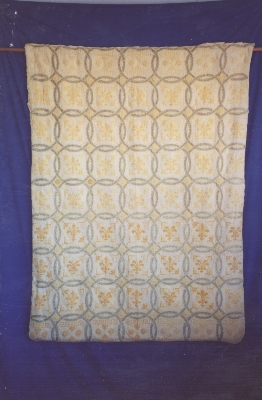 Description:
Wholecloth quilt of calico with the 'Double Wedding Ring' pattern worked in cross stitch in yellow and green. The sides are bound and the backing is calico. There is no padding.
1650 x 1280mm
History:
This quilt was made by Mary Jane Keziah Jakeman (1857-1934) c.1930 either at New Norfolk in Tasmania or Gladesville Sydney. It is now in the collection of Annette Gero.
Story:
"Mary Jane Keziah Jakeman 1857-1934 (nee Albon). Born in England, came to Australia circa 1887. Settled in Coonamble, later Sydney. Went to Tasmania early 1900's and was Postmistress at New Norfolk. In 1929's returned to Gladesville NSW where she died in 1934." [Annette Gero]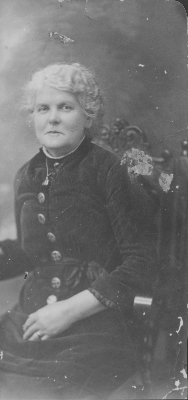 Related Quilts:

Wholecloth pram quilt with a top of pink cotton sateen, and the reverse is a more finely woven, ivory, fabric. All over quilting design as main feature, with stylised hearts, leaves and cross hatching. The padding is cotton batting. 870 x 660 mm.

Hand stitched, cotton, appliquéd, quilt in a flower pattern on a plain background. Colours are shades of green, apricot and browns. This quilt was known as a 'Bride's Quilt'. Padding is thought to be layers of white fabric raised almost like a wadding. The backing is cotton material. 2470 x 2020 mm.

Wholecloth quilt with both sides in a cotton floral material with a dusty pink background. All over hand quilting is in loose parallel lines.
Stavroula re-covered this quilt with this material about 20 to 25 years ago. Originally the quilt had a yellow gold satin top with yellow gold cotton backing. Padding is cotton wadding.
1900 x 1600mm

Wholecloth quilt of fine cream homespun embroidered with red and white stranded cotton. It is a cross stitch design of roses pre stamped on the material. The quilting consists of a fern pattern medallion in the centre, straight lines and a fern pattern border. The padding is fine wadding and the backing is white sheeting with a small floral pattern,
2160 x 1650mm

Patchwork quilt made for a child. All cotton with cotton padding. White blocks have embroidery depicting different nursery rhymes eg Mary, Mary, Quite Contrary ; Old Mother Goose. These blocks are separated by rectangular strips of teal cotton. The quilt is hand stitched and heavily quilted.
1677 x 1271mm

Reversible wholecloth cotton quilt with elaborate hand quilting. One side is cream patterned material and the other plain pale yellow. It is padded but the type of padding is unknown.
2450 x 2000mm