Quilt No.85JD - June Dean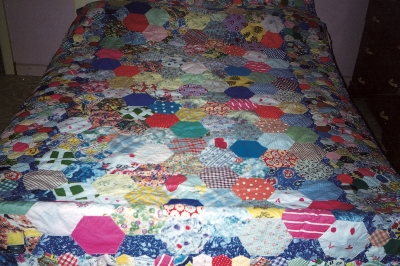 Description:
Pieced hexagons, English paper method. Large hexagons form the centre with a border of smaller hexagons. The fabrics are all cotton in a wide range of colours and patterns. There is no padding. The backing is cotton, large white floral design on dark blue. The hexagons are hand pieced and the edges machined.
2480 x 1420 mm
History:
The quilt was made by Clara Bridle between 1940 and 1950 in Tumut NSW. It then passed to her daughter Trixie Clugston and is now owned by her grand-daughter June Dean. It is still used.
Story:
The maker, Clara Bridle (nee Green) was born at Lobbs Hole 1876 and died in a car accident in 1965. The fabrics for this quilt came from family and friends.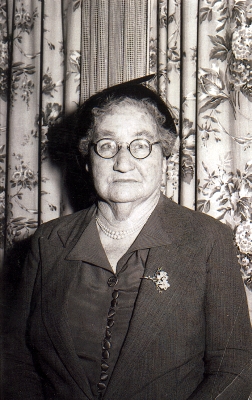 Related Quilts:

Log cabin pattern, each block dark and light strips. 4 blocks joined with dark strips to centre to make larger block. 30 large blocks and 2 sides with half blocks. Each block is machined on to calico. Materials include velvets, corduroys, interlock, taffetas and silver lame. There is a 170mm bottle green border and a single piece of mid brown synthetic for the backing. The padding is probably dacron.
2400 x 2100mm

Child's Patchwork quilt of pieced repeat blocks in red print and white cotton, in 'Bow Tie' pattern. Qult has cotton backing, and wool filling. Some patches are fraying. The quilt has 'Mary Lactitia Thompson' embroidered on it.
1905 x 1296mm

Crazy patchwork cot quilt made from a wide variety of materials, patterned and plain. Some seams are overstitched with feather stitch and herringbone. One of a pair. There is no padding. The backing is taffeta.
1500 x 2000mm

Cotton quilt made in the USA. The pattern is 'Turkey Tracks'. It is machine pieced and very finely hand quilted. The backing is calico and the padding is cotton.
1880 x 1753mm

Crazy patchwork quilt of pieces of plain and patterned silks in bright and pastel colours, each patch edged and decorated with a variety of embroidery stitches, including star, spider, french knot and feather and herringbone variations. 2 patches of early aniline dyed blue silk. Motifs of tennis racquet, horse shoes, fan and some embroidered flowers. The patches are stitched to coarse linen. There is a wide border of red plush velvet turned to the underside. There is no padding. The backing is red polished cotton.
1550 x 1435mm

Patchwork quilt made from hexagons in 'Grandmother's Flower Garden' design, in blue and aqua cottons, polyester and flannelette. Quilt is backed. No padding or quilting.
2380 x 2320mm