Quilt No.885NTNW - National Trust of Australia (NSW)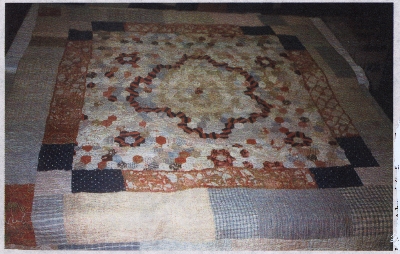 Description:
Utility quilt hand and machine sewn. The top has a centre frame of hand sewn hexagonal patches in a mix of dress materials and shirtings with four corner flowers and a roughly circular ring in red and blue stripe. The inner border has rectangular pieces in red/yellow/green/white hexagon printed material alternating with a blue/white spot. The outer border consists of large pieces of material, predominantly pink and blue stripes and checks. The backing is mainly red/white printed cotton. It is quilted all over in a diamond pattern. The padding is mainly flannel and has been made from...
History:
The maker is unknown. The quilt is believed to be Australian and made c.1900. It is now part of the National Trust (NSW) quilt collection.
Related Quilts:

"The quilt is made up of many cotton hexagons of various colours, patterns and designs, finely sewn by hand, making a very attractive bedspread. Each patch is lined with lawn. It is quite a heavy quilt, with its plain border, and backing of home-spun cotton or cesarine. The family always called it a 'cottage design'."
No quilting.
2312 x 1905mm

Large centre rectangle of hexagons in various colours of patterned and plain cottons. It is surrounded by a wide border in a checkerboard of red and white cottons. There is a wholecloth cotton backing. The front and the back have been turned under at the edge and machined. There is no padding.
1829 x 1372mm

Patchwork quilt of pieced repeat blocks in 'T' pattern,mainly cottons. Quilt is constructed with 12 blocks across and 12 blocks down. Some fabrices have been reused from clothing, some blocks have patches which have been pieced from scraps to make enough fabric for the pattern. Padding is' pellon', quilt is backed, bound and quilted.
1600 x 1500mm

Cotton quilt top in patter, the owner calls 'Tumblers'. Approximately 590 pieces, with one exception, all different patterns and colours. 2181 x 1980

4 Pieces of a patchwork quilt which was formerly a whole quilt. It is pieced in cottons in blues reds and browns in many prints. There are whole circles and pieced circles against a plain cream calico background. It is wool lined and is quilted. There are the initials 'A.B.' and '1828' on a central piece. The 4 pieces are various sizes.

The top is mainly squares of flannel machined together with patches of dress materials stitched randomly on top. There is no padding and the backing is calico. The top and backing are held together by a binding only. It is one of a pair.
2010 x 1680mm