Quilt No.904WA - Win Adcock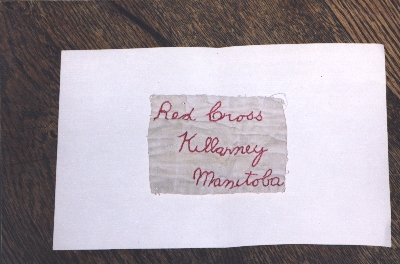 Description:
The quilt on longer exists, just the label, but the quilt was squares of flannelette shirt material, velvets and woollen pieces. The backing was calico. The label was sewn to the backing and it reads: 'Red Cross Killarney Manitoba'. It is embroidered in red and is on a white piece of sheeting.
History:
The quilt no longer exists but was made by the women of the Red Cross at Killarney, Manitoba, Canada and sent with other quilts to London for bomb victims. It was given to Mr. And Mrs. Fred Barnes when their house was bombed in 1940. In 1959 their daughter Win Adcock brought the quilt to Australia to Sarina in north Queensland. In the tropical climate the quilt only survived until the 70s except for the label.
Story:
"Sometime between the 16 September and 9th October 1940 our first home was destroyed by a land mine (they floated down by 'parachute'). The blanket was given to my parents after this incident.
The blanket had been well used either on the bed or over us in the air raid shelters. It survived the loss of our second home in Cambridge Grove that night in late 1944��"
[Win Adcock 22.4.99]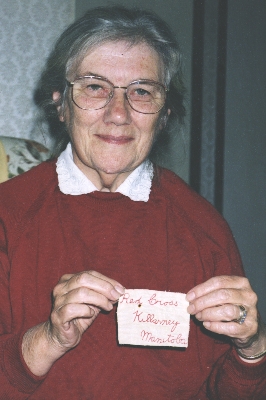 Related Quilts:

Repeat block in Ohio star pattern. Wide border of triangles, pieced blocks and stripes. Stars are in greens, pinks, mauves (all now very faded) and white. Wreath quilting in squares with smaller wreath quilting in triangles. There is padding and the backing is a poly/cotton sheet. 2500 x 2450mm

One side of this quilt is large pieces of check and striped material surrounding a small patterned supper cloth with a border of scrap pieces. The other side is small, floral, check, spotted, striped and plain cotton pieces surrounding a tablecloth. It is machine sewn and is not quilted. The padding is an old woollen blanket.
1825 x 1625mm

Cotton quilt, machine sewn and hand quilted. Pattern similar to Double Irish Chain. The background is white and the small squares mainly patterned in pinks, blues, lilacs and greens. The backing is plain white cotton and the padding, which is lumpy, could be some type of cotton.
2057 x 1220mm

Handsewn quilt pieced in red, blue, green and yellow print cottons in 'Lone Star' pattern, with diamond shaped patches. The main star is edged with a red and cream sawtooth border. In each corner is a star made up of 4 rows of diamonds, surrounded by small 8 point stars in red and green. The background material is a cream and brown spot print. The backing is a printed cotton in a small all over purple leaf and bud print on cream. Quilting is in an all over wave pattern.
2320 x 2320mm

Patchwork quilt in crazy pattern, with pieces of silks, corded silks and velvets in prints, plaids and plains. Nearly all pieces are edged with embroidery, and many pieces have embroidered names and motifs. There are a variety of embroidery stitches. The backing is of slub cotton in a plaid pattern in yellow, grey, red and white. No padding. Quilt has a gathered edging of dark red organdy and silk. Names and dates embroidered are: Bert, Milly, Toots, Verdi, Ida, and 1893, 1895, 1894.
1550 x 1420mm

Patchwork quilt made from cotton hexagon patches in the 'grandmother's Flower Garden' pattern, in bright prints and plains, with cream 'paths' made from dress material. Padding is flannel sheeting, and backing is the same cream material as the 'paths'. The centre of the 'flower' patches are autographed with friends' names and dates, as are some 'petals' and cream patches, in black ink.
1550 x 1400mm