Quilt No.925NI - Nia Ikonomou
Description:
This traditional Greek quilt has one side of deep pink satin and the other side of gold satin. It is machine quilted with a centre diamond in which are large butterfly patterns set within curvilinear and crescent shapes. The borderis 3 parallel lines. The padding is cotton wadding.
1940 x 1660mm
History:
The quilt was made in Piraeus, Greece in the early 1960s by a quilt maker whose name is unknown. It was ordered by Nia's aunt, Aspasia Tziotis, and brought to Australia as a wedding gift for Nia and John when they were married in Brisbane in 1966. It is not used now.
Story:
"Nia's Paploma
This beautiful 'paploma' (quilt) was brought to Australia by Nia Ikonomou's aunt, Aspasia Tziotis, as a gift for Nia and John when they married in 1966 in Brisbane. It was a wedding gift from Nia's extended Yiannopoulos family. They specially ordered it from a 'paplomatas' (quiltmaker) in Piraeus, the busy port of Athens. They wanted a gift that 'would last, something to remember'. As for so many other Greek Australian families - finding someone to make a traditional Greek-style paploma in 1960's Australia was often quite a task.
When Nia was seven she left Piraeus, to come to Australia with her mother Veneria Xanthopoulos and brother Telemachos (Tim). Two years earlier, in 1951, Nia's father Zisimos (Simo), a shipwright's carpenter, had come to Sydney with the ship he was working on, and then made the decision to settle in Australia. Nia's younger brother Dimitri (Jim) was born here.
Nia has strong memories of the journey to Australia on the P&O ship 'Fairsea', converted from an old cargo ship, a common practice in those post-war years when Australia's immigration population numbers were at their peak. Indeed, Nia recalls that many people on board were headed for the Bonegilla migrant camp, near Albury NSW. But Nia was bound for Sydney where her father met the family and so began the daunting process of settling into a new land, with an unknown language and strange customs. It was particularly difficult for Veneria - she had left behind a large, closeknit family. 'I became Mum's friend, I had to learn English fast, so I could help her'. Nia's experiences are shared by second generation women from non-English-speaking backgrounds, all over Australia.
Considering its age and that it has travelled halfway around the world, Nia's paploma is in pristine condition. It remains as a loving tribute both from the country of her birth, and the country where she and husband John have made a good life for themselves. They have two children, Veneria (Veny) and Nicholas."
[Written by Lula Saunders, adapted from interview 6/9/00 for the National Quilt Register]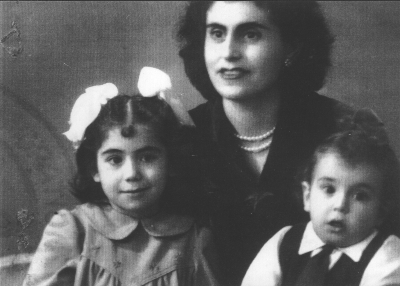 Related Quilts:

Wholecloth pram quilt with a top of pink cotton sateen, and the reverse is a more finely woven, ivory, fabric. All over quilting design as main feature, with stylised hearts, leaves and cross hatching. The padding is cotton batting. 870 x 660 mm.

Hand stitched, cotton, appliquéd, quilt in a flower pattern on a plain background. Colours are shades of green, apricot and browns. This quilt was known as a 'Bride's Quilt'. Padding is thought to be layers of white fabric raised almost like a wadding. The backing is cotton material. 2470 x 2020 mm.

Wholecloth quilt, both sides cretonne in different rose patterns. 120mm double frill matches each side. Padding is possibly hessian bags. It is hand quilted in large stitches in white/cream cotton in strips with circles, diamonds and scrolls repeated.
2070 x 2030mm

Wholecloth quilt of white cotton with hand appliqued flowers in 3 shades of red. The centre of the quilt has 6 separate flowers radiating from a circle and each corner has a separate arrangement of flowers. The white cotton quilting is in diagonal lines and a daisy pattern. There is a narrow red border widely scalloped. The backing is white cotton. There is no padding.
2236 x 1905mm

Traditional Wagga rug made from 3 wheat bags joined along the long side by sewing with bag needle and twine. Machined twill cover was put on later in the 1960s. Originally no padding but now the bags are the padding. One of a pair(identical).
1790 x 1160mm

The padding consists of layers of pieced used clothing including; part of machine knitted child's wool dress (Nancy had this when she was 3 or 4); part of father's cardigan; parts of 'neck to knee' bathers in light green and dark green wool. The padding is all hand pieced and machined around the edge. There have been 2 wholecloth cotton covers to this quilt. It is one of a pair.
1870 x 1020mm