Quilt No.940NTW - National Trust of Australia (WA)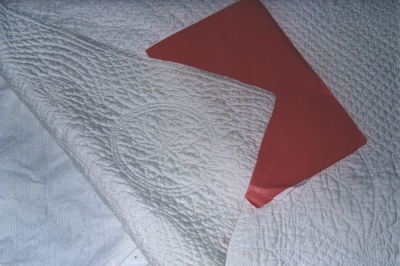 Owner:
National Trust of Australia (WA)
Description:
Wholecloth Durham quilt of white cotton sateen front and backing. Handsewn. Padding is wool. Quilting patterns include a centre of 8 petalled flower within a double circle with radiating palmettes on a cross hatched background and borders of leaves and branches.
2330 x 19400mm
History:
The maker is unknown but this quilt is thought to have been made in the first half of the 20th century. In 1982 it was owned by Mrs. F. Percy of Northumberland. It was later donated to the National Trust, WA by Mrs. Mary Crozier. The quilt is stored at Woodbridge, Midland WA.
Related Quilts:

Wholecloth pram quilt with a top of pink cotton sateen, and the reverse is a more finely woven, ivory, fabric. All over quilting design as main feature, with stylised hearts, leaves and cross hatching. The padding is cotton batting. 870 x 660 mm.

Hand stitched, cotton, appliquéd, quilt in a flower pattern on a plain background. Colours are shades of green, apricot and browns. This quilt was known as a 'Bride's Quilt'. Padding is thought to be layers of white fabric raised almost like a wadding. The backing is cotton material. 2470 x 2020 mm.

Wholecloth quilt, both sides cretonne in different rose patterns. 120mm double frill matches each side. Padding is possibly hessian bags. It is hand quilted in large stitches in white/cream cotton in strips with circles, diamonds and scrolls repeated.
2070 x 2030mm

Wholecloth quilt of white cotton with hand appliqued flowers in 3 shades of red. The centre of the quilt has 6 separate flowers radiating from a circle and each corner has a separate arrangement of flowers. The white cotton quilting is in diagonal lines and a daisy pattern. There is a narrow red border widely scalloped. The backing is white cotton. There is no padding.
2236 x 1905mm

Traditional Wagga rug made from 3 wheat bags joined along the long side by sewing with bag needle and twine. Machined twill cover was put on later in the 1960s. Originally no padding but now the bags are the padding. One of a pair(identical).
1790 x 1160mm

The padding consists of layers of pieced used clothing including; part of machine knitted child's wool dress (Nancy had this when she was 3 or 4); part of father's cardigan; parts of 'neck to knee' bathers in light green and dark green wool. The padding is all hand pieced and machined around the edge. There have been 2 wholecloth cotton covers to this quilt. It is one of a pair.
1870 x 1020mm