Quilt No.807QVM - Queen Victoria Museum and Art Gallery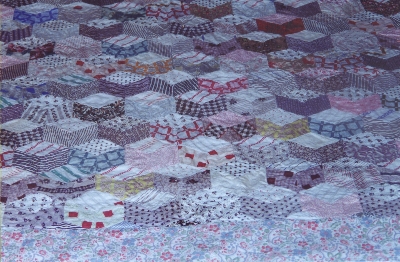 Owner:
Queen Victoria Museum and Art Gallery
Description:
Patchwork quilt made from diamond patches in a variety of cotton materials set in a 'tumbling block' pattern. Patterns include geometrics, stripes, a 'Kate Greenway' print and colours are largely soft pastels, dark browns, with some reds and blues. The quilt has been cut down and a later border added. There is no padding and the backing is cream cotton.
2279 x 2000mm
History:
The quilt is thought to have been made c.1895. It was acquired by the Queen Victoria Museum and Art Gallery in 1995.
Related Quilts:
Dresden plate quilt with pointed pieces set around a white centre. Fabrics are checks, floral patterns and plains of the 1930s. The twenty blocks are sashed with plain mauve fabric which does not meet evenly in some places. The padding is two layers of cotton bedspreads. The backing is open weave rough quality cotton.
1860 x 1550mm.

Cotton quilt made from squares of patterned and plain materials. It has a mauve cotton flounce around the border and a mauve cotton backing. There is no padding.
2700 x 1350mm

Square patchwork quilt made from rectangles of woollen tailors' samples, each patch outlined with machine fancy stitch using red thread. Machine sewn. The backing is a green and white check fabric. No filling.

"A tied patchwork wagga quilt made from swatches of men's wool suiting fabrics in blue/grey and pink/brown tonings. Rectangular swatches have been cut in half diagonally, and the resulting right-angled triangles paired to form larger equilateral triangles which alternate dark with light across the field. The quilt has been machine and hand pieced, then machined in vertical stripes.
The centre field is bounded by two strip-pieced borders at top and bottom, and three down each side. These are sewn from rectangles, using light pink/brown tones for the inner border and darker colours for the outer borders. The quilt is padded and backed and the side seams are secured with black herringbone stitch. The three layers are tied together invisibly with lazy daisy stitches in black cotton from the back." [PHM] The padding is a wool blanket and the backing is two pieces of cream twill cotton.
2030 x 1440mm

Patchwork quilt made of squares and rectangles in woollen fabric, stitched together without any particular pattern. Colours are mainly green, grey, blue, black, pink and some yellow. Fabrics are plain, checks and stripes. No padding, quilting or binding. Backing is a remnant of synthetic fabric. The quilt has been well sued and is very worn with fabric torn and marked in some places.
1400 x 400mm

Medallion style all cotton quilt made in the USA. Hand pieced with centre panel of 'cheater' material pre printed in a patchwork design. Bordered with 'Nine Patch' and sashing. The backing is printed cotton and the padding is cotton. The quilt has yellow tufting or ties in wool.
1855 x 1525mm