Quilt No.807QVM - Queen Victoria Museum and Art Gallery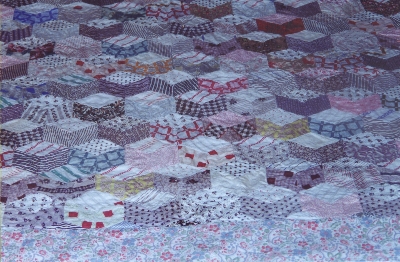 Owner:
Queen Victoria Museum and Art Gallery
Description:
Patchwork quilt made from diamond patches in a variety of cotton materials set in a 'tumbling block' pattern. Patterns include geometrics, stripes, a 'Kate Greenway' print and colours are largely soft pastels, dark browns, with some reds and blues. The quilt has been cut down and a later border added. There is no padding and the backing is cream cotton.
2279 x 2000mm
History:
The quilt is thought to have been made c.1895. It was acquired by the Queen Victoria Museum and Art Gallery in 1995.
Related Quilts:

Cot quilt of mixed textiles and techniques. Made in sections and stitched together possibly with some padding. It features embroidered and appliqued animals (cats, donkey, elephant, squirrel, birds, kangaroo, emu) and nursery rhyme characters. Materials are cotton, silk, wool, imitation fur. There is a black velvet patch with a cross stitch parrot and embroidered date and initials 'May 1925 AE'. The backing is woven self patterned curtain material. There is a ruffle around the edge in the same material.
1400 x 930mm

Log cabin patchwork pieces (2) with each block approximately 120 x 120mm. They are diagonally divided into light and dark side. Materials are mainly silks including silk velvets. Each block is stitched on to a backing square, pieces of old blanket, woollens, cottons, many very worn. There is no other backing.
Quilt is hand pieced.
1000 x 1000mm

The suffolk puffs are mainly cotton in a wide variety of colours and plain and patterned materials. The puffs are small squares rather than the more usual circles. The backing is teal satin hand stitched to the top. There is a teal bow at one end. There is no padding.
1570 x 1100mm

Utilitarian quilt made from large pieces of wool, flannel and cotton. Machine construction and the padding is wool.
1570 x 152Omm

Log Cabin quilt made from a variety of cottons and silks. There is no padding and the backing is calico bags. 1500 x 1250 mm.

Quilt of machine pieced squares and rectangles using a wide variety of materials in plain colours and patterns. It is one of a pair. There is no padding and the backing is 90cm strips of calico.
2500 x 2130mm