Bowen Commemorative Historical Centre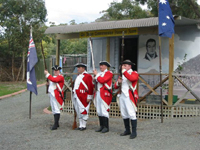 The museum has been developed solely by volunteers and is wholly independent in that it does not solicit private or government funding. The site is situated very near to the first British settlement of Tasmania at Disdon Cove (1803). The immediate environment is the oldest settled area in Tasmania.
Address:
673 East Derwent Highway, Bowen Park, TAS
Hours:
Monday - Sunday 8:00am - 8:00pm.
Collection:
The collection consists of documents and pictorial displays. The information has been mounted against a native fauna and flora painted background indicative of the type found in the area in 1803.
Items
Bronze plaques
Plaques commemorating significant events at Disdon Cove.
Creator:
state Governments
Description:
These four plaques were formally mounted at the old site, then were removed and stored. They have now been demounted and are available for inspection.