Broome Historical Society Museum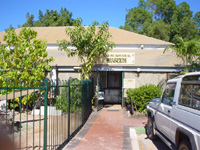 We speak through Photographs, subject albums and visual displays to provide visitors with an understanding of Broome from its rough and ready early days to its emergence as a World Centre for cultured pearling.
Broome was the first truly multi-cultural district in Australia Aboriginal, Japanese, Chinese and Europeans have all contributed to Broome's very diverse cultural history and the Museum, in its exhibits and its albums reflects this richness..
Visiting the Museum you will learn about: Pearling and Luggers; Exploitation and Exploration; Adventures, Hardships and Mateship; Aboriginals, Asian and Europeans; Riots, Racism and Heroism; Shipwrecks and Missing Diamonds, Japanese attack on Broome in World War 2; Japanese partnership in Cultured Pearling,
Broome Historical Museum is a living process, continually upgrading, revitalising and reviewing its relevance. Upgrading for 2005.
Address:
67 Robinson Street, Broome, WA
Hours:
June - Nov 10.00am - 4.00pm Mon-Fri, 10 .00am - 1pm Sat - Sun. Nov - June 10.00am-1.00pm every day
Admission:
Adults $5.00, Seniors $3.00, Children (12-16 yrs) $1.00
Facilities:
Wheelchair access, brochure available, school groups, quiz sheets
Collection:
All exhibits relate, within our shire Boundary, to the settlement, town development, pearling and cattle industries, local government, interaction with original inhabitants, social and educational activities.
Items
Recompression Chamber
Divers Recompression Chamber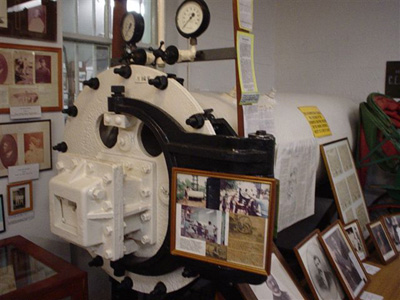 Creator:
C.E. Heinke and Co London
Description:
Circular metal chamber. Front opening with dials above. Fully restored by Maritime Museum. Presented to Broome 1914. Used to cure diver's paralysis.
Diving Suit
Pearl Divers Suit, Helmet and Boots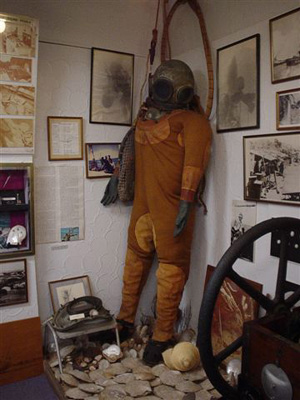 Creator:
Siebe Gorman and Co.
Description:
Rubber, canvas and copper - steel tipped leather and weighted heels
Air Pump
Diver's Two Man Air Pump
Creator:
Siebe and Gorman and Co Ltd, Submarine engines, London
Description:
Wooden encased brass fittings. Two hand operated wheels.
Box
Pearl Safe Keeping Box
Description:
Wood and Brass with angled tube to inside. Used on board Luggers to store pearls in.
Book
A New Voyage Around the World
Description:
Includes map of the world "Shewing the course of Mr Dampier's Round it 1679-1691" - inscription reads Letitia Harbord, May 27, 1697.