Mundaring Arts Centre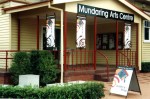 Situated in the old Mundaring Post Office building in the heart of the Perth Hills town of Mundaring, the Mundaring Arts Centre is a non-profit, community-based Arts Centre. Featuring regular exhibitions by predominently local artists, we work closely with the Perth community providing workshops for all ages and all levels of experience; assistance with Festivals such as the Mundaring & Darlington festivals and the Truffle festival; and provide a support network for other community-based organisations.
Address:
7190 Great Eastern Hwy, Mundaring WA 6073, Australia
Tel:
+61 8 9295 3991
Fax: +61 8 9295 3994
Hours:
Weekdays 10am - 5pm
Weekends 11am - 3pm
(Closed Public Holidays and from Christmas Day for 1 month)
Facilities:
Gift Shop with locally crafted art and gift items; parking; wheelchair access; close to cafes, picnic area's and public transport.

Collection:
The Shire of Mundaring Art Collection is a richly varied and culturally valuable body of artworks created by artists and craftspeople that have resided in, or have had a close connection to, the Shire of Mundaring.
The Mundaring Arts Centre manages the care, interpretation and display of the Collection on behalf of the Shire. Among other sources, the Shire acquires artwork through an annual exhibition which is curated and hosted by the Mundaring Arts Centre.