Art Gallery of Western Australia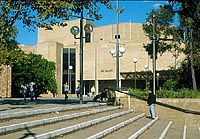 The Art Gallery of Western Australia is the oldest visual arts organisation in the state, having acquired its first work of art in 1895. It is housed in two buildings: the main Gallery was completed in 1979 and the adjoining Centenary Galleries were restored in 1995. The Gallery's permanent collection comprises Australian and international works, with a particular emphasis on Aboriginal art. Its programs included the presentation of special temporary exhibitions of local, national, and international art together with the display of the permanent collections. This activity is complemented by educational and public programs.
Address:
Perth Cultural Centre, James Street, Perth, WA
Hours:
Daily 10:00am - 5:00pm; Anzac Day 1:00pm - 5:00pm. Closed 24-26 December & Good Friday.
Admission:
Free. Charges apply for special exhibitions.
Facilities:
Art gallery shop, art gallery cafe, guided tours, education programs, hiring of facilities, wheelchair access
Collection:
Approximately 14,000 items
Items
Pukumani poles
Purukupali and Tjapara The Moon Man
Creator:
Harry Carpenter Maniluki
Description:
Ceremonial artefact - traditional Australian Aboriginal art from Melville Island.
Item Id Number:
988/731 & 733
Painting
Painting For a New Republic (The Inland Sea)
Description:
Contemporary post -1980 Aboriginal art.
Painting
Down On His Luck
Creator:
Frederic McCubbin
Description:
The Heidelberg School of painters 1880s Australia.
Painting
Christ In The Wilderness Series
Description:
Pre-1960 British painting.
Item Id Number:
983/P 1-9
Watercolour
Perth, West Australia on Swan River
Creator:
Richard Atherton Ffarington
Description:
Historic watercolour of Western Australia (one of a folio).