Azelia Ley Homestead Museum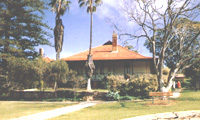 The museum is situated within Manning Park, a significant public garden area south of Perth. The homestead was built in 1905 and was the residence of Azelia Lay until her death in 1954. The museum represents the cultural and historical heritage of the City of Cockburn, comprising 76,000 residents and focuses on a family experience in conjunction with the open park area. A heritage trail leads from the museum to three lookout points commanding magnificent views of Cockburn and the Indian Ocean.
Address:
Manning Park, Davila Avenue, Hamilton Hill, WA
Hours:
Sunday 1:30pm - 4:30pm. Other times by appointment
Collection:
The museum has a large photographic collection. The collection is specific to the City of Cockburn.